22.06.2022 | כג סיון התשפב
Diabetes SPHERE and Sakhnin Sign Agreement of Cooperation
The agreement was signed at a ceremony attended by senior representatives of SPHERE and the Sakhnin Municipality
Image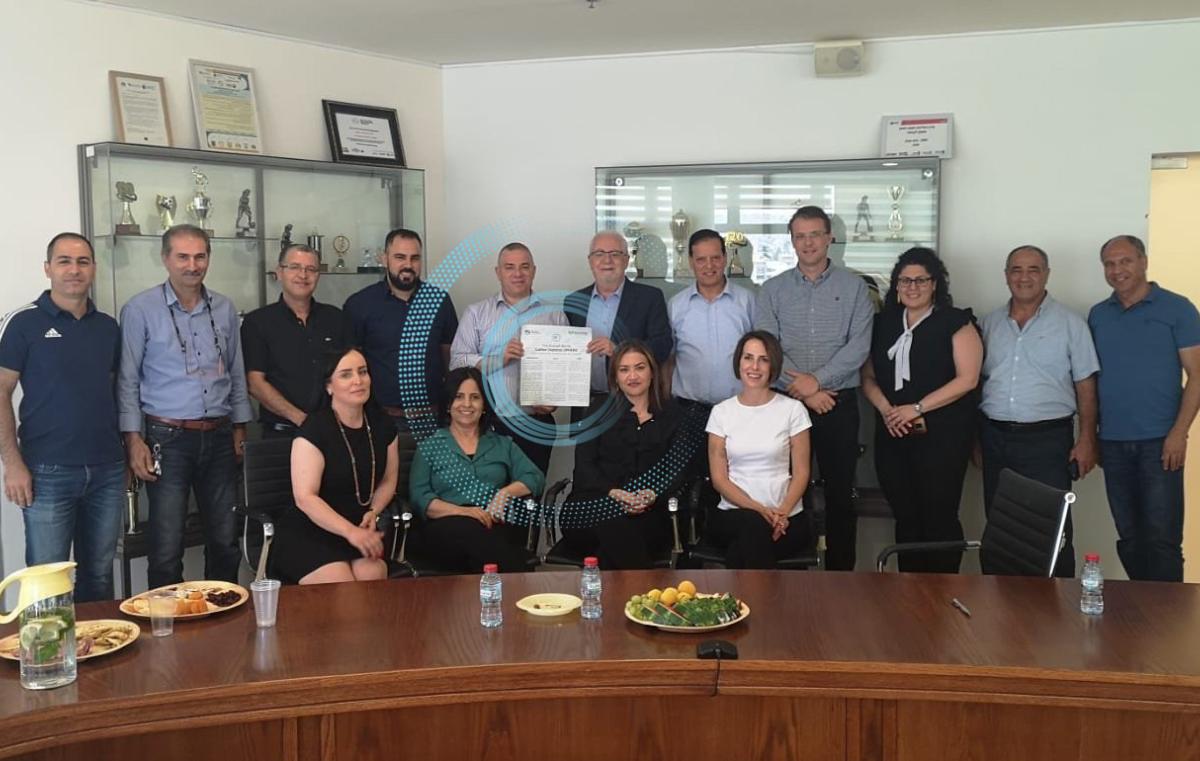 The Russell Berrie Galilee Diabetes SPHERE and the Sakhnin Municipality signed an agreement of cooperation to implement SPHERE's initiative to transform diabetes care in the northern Galilee region.
SPHERE, which stands for the Social Precision-medicine Health Equity Research Endeavour, aims to have an immediate impact on quality of life in the Galilee and a long-term impact on diabetes care and treatment worldwide. It aims to integrate aspects of the field that are often siloed, by bringing together a broad spectrum of scholars; health care, social services and industry professionals; religious community leaders; women's organizations; municipalities; NGOs; and Israel Diabetes Association centers.
The agreement was signed at a ceremony attended by senior representatives of SPHERE and the Sakhnin Municipality.
Sakhnin Mayor Dr. Safwat Abu Raya expressed the municipality's eagerness to cooperate with SPHERE in order to improve the health of the city's residents and combat the diabetes epidemic. Dr. Abu Raya emphasized the role of the municipality and of local authorities in building the appropriate environment together with medical professionals and certified professionals.
Prof. Naim Shehadeh, Director of SPHERE, said: "Sakhnin is the second city alongside Shfaram to sign an agreement to implement SPHERE's initiative. This is great news for the city's residents and the beginning of joint work to combat diabetes and to adopt a healthy lifestyle that will reflect all areas of life."
Dr. Sivan Spitzer, Deputy Director of SPHERE, added: "We are working on building a comprehensive plan of action to improve the complex health situation and to improve the spread of diabetes in the city. We have nearly completed a comprehensive health survey in collaboration with the municipality, which we are closely working with to advance the success of this important project."
The ceremony was attended by Sakhnin Mayor Dr. Safwat Abu Raya; Deputy Mayor Ashraf Halila; Municipality CEO Kasim Abu Raia; Director of Sakhnin's Welfare Department Fathi Abo Yonis; head of Sakhnin's Health Center Hossam Halila; SPHERE Director Prof. Naim Shehadeh; Deputy SPHERE Director Dr. Sivan Spitzer; municipality SPHERE coordinator Dr. Jumana Issa Haddad; HMO representatives; doctors; and others.