22.11.2022 | כח חשון התשפג
Bar-Ilan Welcomes Australian Delegation
Visit focuses on University's STEM-related initiatives
Image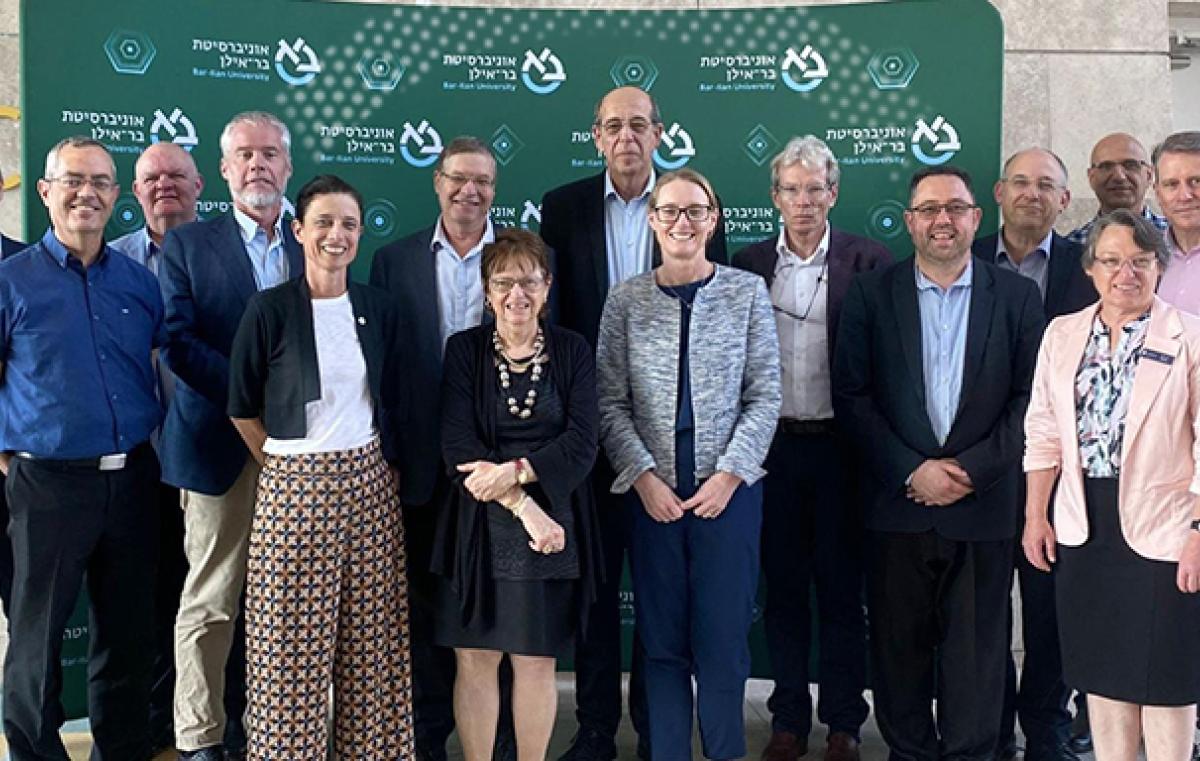 Bar-Ilan University welcomed a delegation of high-ranking officials from leading universities in Australia. The delegation is on a visit to universities across the country coordinated by Universities Australia, the equivalent Down Under to Israel's Council for Higher Education. Their visit to Bar-Ilan was organized by the University's International School.
Members of the delegation, some of whom are already collaborating with Bar-Ilan, hail from the University of Sydney Nano Institute, Flinders University, Latrobe University, University of New South Wales, University of Technology Sydney, Griffith University, Federation University, and Universities Australia.
University President Prof. Arie Zaban introduced the delegation to Bar-Ilan and highlighted the tremendous impact interdisciplinary collaboration has had on the University's research output. The Australian delegation expressed its appreciation of the entrepreneurial spirit that is at the forefront of Bar-Ilan's efforts to create solutions to global challenges.
The visit focused on research and activities of Bar-Ilan's various STEM-related initiatives, particularly in energy, sustainability, nanotechnology and cyber.
Prof. Doron Aurbach, of the Department of Chemistry and Institute of Nanotechnology and Advanced Materials, explained that as Israel moves towards new standards in energy production, the government is beginning to implement its policy to change the Israeli energy economy towards use of sustainable/renewable energy sources rather than fossil fuels to reduce greenhouse gas emissions in Israel toward zero by 2050. This change in the energy economy will require Israel to reach independence in supplying its energy needs.
Within this challenge Bar-Ilan University has emerged as a national leader in creating technical capabilities that will push Israel toward this goal. "We won't be able to continue leaning on importing storage devices, so we have to reach energy independence. This is a critical issue that depends on technology and manpower," added Aurbach, who has published more than 750 research papers that have been cited more than 71,300 times by researchers in his field.
Prof. Oren Perez introduced Bar-Ilan's newly-established Multidisciplinary School for Sustainability and the Environment, which unites all of the University's undergraduate and graduate programs for environmental studies under one roof. The School offers courses in such areas as health and environment, alternative energy, and environmental law and policy, geography, planning and the environment, which are open to students from all academic disciplines on campus. Prof. Perez heads the new School. Dr. Orit Rotem-Mindali, explained that the Department of Geography and the Environment, which she heads, plays a significant role in a number of issues addressed by the School, including environmental policy, urban geography and planning, economic and behavioral geography, GIS and remote sensing, and earth sciences.
Prof. Dror Fixler, Director of the Institute of Nanotechnology and Advanced Materials (BINA), presented the research activities underway at the Institute, some of which are in partnership with Australian academia. Among these partners is Prof. Benjamin Eggleton, Director of Sydney Nano and recently-appointed Pro-Vice-Chancellor (Research) at the University of Sydney, who was visiting BINA for the first time in three years. Throughout these years the two institutes have collaborated continuously in the areas of bio convergence and energy, and during the visit Fixler and Eggleton and their teams discussed their new collaborative research projects and agreed to focus on quantum, as well. Prof. Fixler explained that BINA encourages interdisciplinary research and is actively working to form partnerships with academic institutions around the world.
Department of Chemistry Chairman Prof. David Zitoun and Dr. Hannah-Noa Barad introduced the delegation to the energy labs. Dr. Gilad Asharov and Dr. Eylon Yogev, of the Center for Research in Applied Cryptography and Cyber Security, described the work of the Center, which was founded as part of a national program, sponsored in part by the National Cyber Bureau in the Prime Minister's Office.