17.01.2023 | כד טבת התשפג
Top 5 Communal and Environmental Projects
Marking five consecutive years as the Israeli university with the fastest-growing student population, Bar-Ilan presents 5 projects that are impacting the community and environment
Image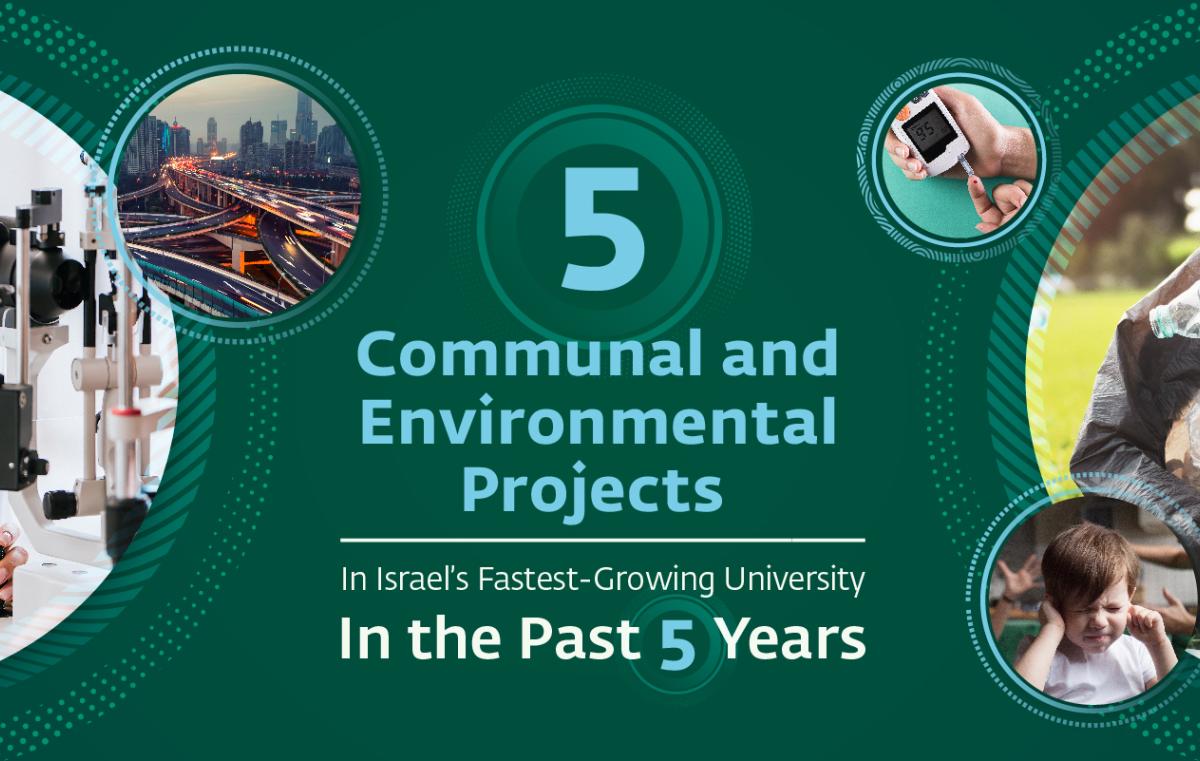 Gearing up for the Open House, we have created a series of 5 articles exposing readers to the research, students, graduates, campus locations, and social activities which have played significant roles in Bar-Ilan's growth. 
Today we are proud to present 5 of Bar-Ilan's most notable projects in the realm of community and environment: 
Cleaning the Environment 
Waste in public spaces is directly related to the climate crisis and many environmental challenges that affect us. 
Prof. Michal Zion from BIU's Faculty of Education, founded an extraordinary project aimed at developing personal responsibility of citizens  to prevent waste dumping and preserve the environment in public spaces. 
The project focuses on education and the development of personal responsibility to lead citizens to avoid waste-dumping in public domains while formulating a national plan to eradicate littering with the cooperation of Israel's leading policymakers.
Stopping the Spread of Diabetes
The Russell Berrie Galilee Diabetes SPHERE operates in the Azrieli Faculty of Medicine. It focuses on community and academic activities to reduce diabetes rates and improve treatment through an integrative, multidisciplinary approach. 
The project focuses on the connection between the periphery and morbidity. It offers activities that address diabetic and pre-diabetic patients, with the help of the medical teams in the community, hospitals, research teams, and local authorities.
Serving the Community
Bar-Ilan University provides the general public with professional assistance in law and psychology through  its various clinics that operate for free or at a nominal cost. 
The psychology clinic provides treatments based on accepted therapeutic approaches. In addition, the Weisfeld School of Social Work offers several therapeutic clinics that provide couple, family, and child therapy.
The Faculty of Law operates clinics where students and qualified lawyers provide free legal advice and representation to those who cannot afford it. The School of Optometry and Vision Sciences offers vision tests to the general public free of charge, special tests for people with poor vision, and diagnoses of various eye conditions. You can buy glasses, contact lenses, solutions, and unique accessories in the clinic store at discounted prices.
Working to Stop Domestic Violence
Domestic violence affects people across society. Many academicians are engaged in attempts to understand and help eradicate such abuse from various directions. However, for the most part, research activity remains within the department or faculty. For the first time in Israel, Bar-Ilan University has established an interdisciplinary academic forum to study domestic violence. The purpose of the forum is to enable the sharing of knowledge among all Bar-Ilan researchers dealing with domestic violence, including intimate partner violence, gender violence, violence against children, violence between teenagers, and violence against the elderly.
Promoting the Quality of Future Urban Life
One of the most important challenges facing humanity is the management of mega cities that are rapidly growing in many countries. 
Bar-Ilan University operates a unique center focused on smart cities, which the European Union has recognized as a Digital Innovation Hub . 
The Center for Smart Cities works in collaboration with 20 cities and authorities throughout Israel and about a dozen cities worldwide and is a focal point for researchers, scientists, residents, decision-makers, and providers of technological solutions for the future smart city. 
The university campus serves as a living laboratory where scientists' ideas and solution providers' systems can be tested on the target population, such as an application to optimize the use of public transportation, automatic sensors for garbage removal alerts, autonomous collaborative vehicles, green walls, and more. 
If you want to be part and grow with us, here's your first step.