16.02.2023 | כה שבט התשפג
Open House: May 12, 09:00-13:00
BIU is hosting an Open House for future students to tour the campus, explore faculties and departments, and receive all the needed information before 2023-24 registration
Image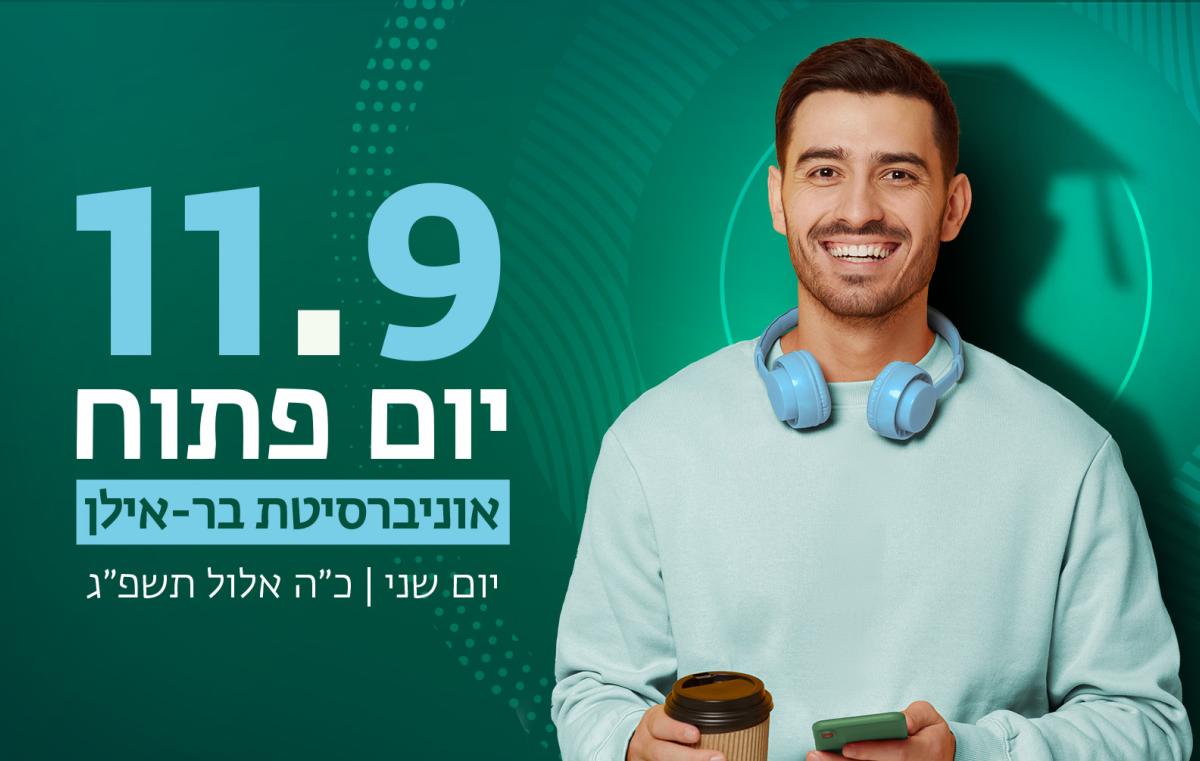 Bar-Ilan University is hosting an Open House on Friday, May 12, at 9 a.m. The Open House allows future students to tour the campus and its grounds, meet with administrative units and representatives of various departments and administrative units and receive all the information they need about study programs, tuition fees, scholarships, and the dormitory.
Watch to get a sense of Bar-Ilan's Open House:
To register for the Open House>
Why Bar-Ilan University?
Bar-Ilan is the fastest growing University in Israel due to its professional teaching methods, advanced science and research, the spectacular campus, and its rich community. The unique combination of Jewish enrichment and academic excellence is yet another reason for you to embark on your educational journey at Bar-Ilan.
Want to know more about the exciting things happening at Bar-Ilan University? Watch the video
Which Field of Study is Right for You?
Choosing a profession or following a passion? Focusing on what I love, or focusing on what I am good at?  These big questions often arise with the search for the perfect university as, for the very first time in their lives, future students are faced with almost endless possibilities and free choice. 
One of the best ways to approach this big life decision, is to divide it into small, focused questions that will lead you to the bigger answer.
Here's a list of questions for you to start with.
If deciding is still challenging, read through Bar-Ilan's study program catalog. In the catalog you will find more than 400 study programs in diverse fields and disciplines where you will be able to zoom in on the type of degree, faculty and department that best suit your areas of interest.
The Future is Dual
Duality is becoming a leading characteristic in the worlds of academia employment, and the integration of various fields f knowledge allows for possibilities previously non-existent. This trend reflects in interdisciplinary research at universities and the growing demand for employees with dual specializations.
Bar-Ilan University offers a diverse selection of dual-degree bachelor programs which allow you to acquire a broad and diverse education suited to your interests and modernity. A dual degree will encourage you to think creatively, enrich your world, expose you to extensive bodies of knowledge and help you meet more people who share common interests with you.
To learn more about dual major programs follow this link.  
Go for Advanced Studies
Advanced studies don't only allow for unique opportunities in government and academia, but play a major role in your personal development.
Graduate studies provide knowledge and specialization in specific fields while acquiring analytical tools that go beyond the boundaries of the field of study. Studies that combine research are an experience and a challenge, enriching the researcher with critical and analytical thinking.
Keep in Touch
Don't 't hesitate to email us! We will be thrilled to answer all your questions and help you reach one of the more important decisions in your life.