19.01.2023 | כו טבת התשפג
BIU to Establish The Jonathan Sacks Institute
BIU hosts three-day international conference; launches The Jonathan Sacks Institute
Image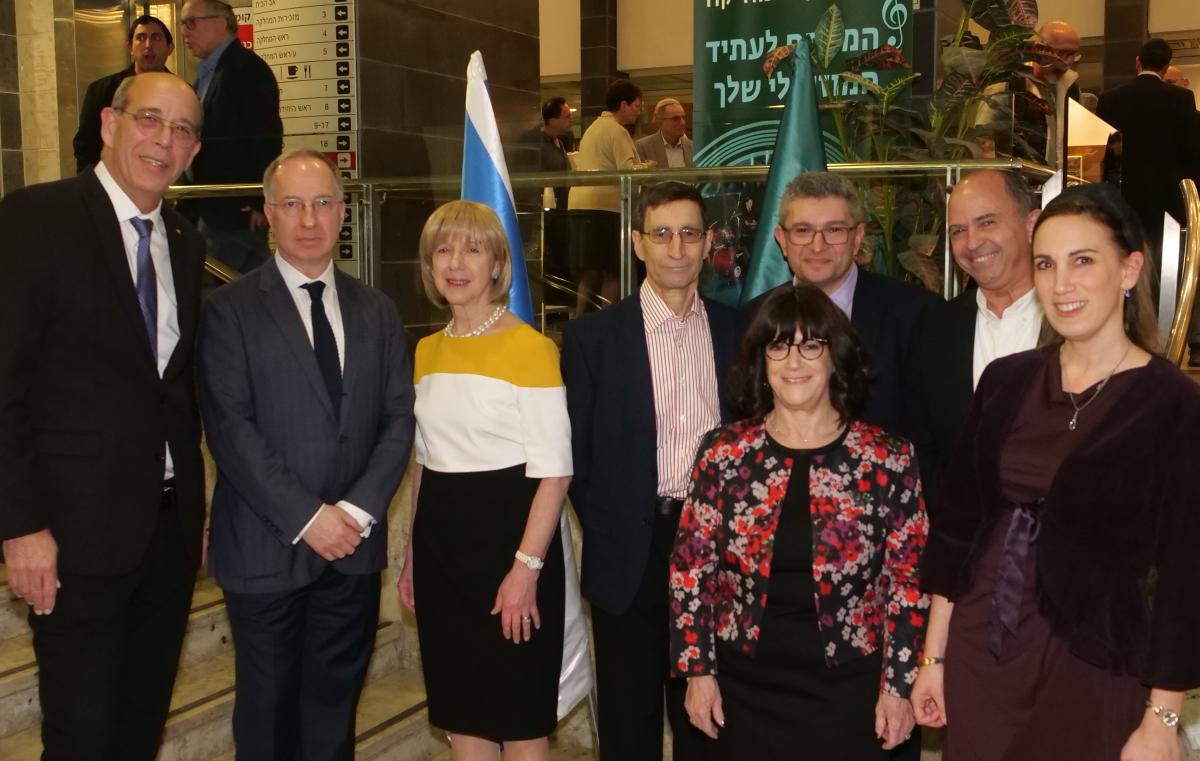 Scholars from around the world gathered at Bar-Ilan University for a three-day international conference devoted to investigating and furthering the intellectual legacy of the late international religious leader, philosopher, award-winning author, and respected moral voice, Rabbi Lord Jonathan Sacks. The conference was the first-of-its-kind dedicated to the ideas, Jewish political and philosophical thought, and influence of Rabbi Sacks, former Chief
Rabbi of the United Hebrew Congregations of the Commonwealth.  
Prof. Hanoch Ben-Pazi and Dr. Miriam Feldmann-Kaye, of the Department of Jewish Philosophy, and Prof. Jonathan Rynhold, Head of the Department of Political Studies, organized the event, in partnership with The Rabbi Sacks Legacy. The 'Jewish News' sponsored the event.
Lady Elaine Sacks and members of the Sacks family joined conference participants and the Bar-Ilan community at a festive event marking the opening of the conference.
At the event, University President Prof. Arie Zaban announced that Bar-Ilan will establish The Jonathan Sacks Institute honoring and perpetuating the legacy of Rabbi Lord Sacks. The Institute will initiate programs and research to ensure that Rabbi Lord Sacks' ideas receive the attention and recognition that they deserve within academia, especially as they relate to contemporary moral, social and political challenges. The Institute will also develop a diverse network of alumni with leadership potential who can make a practical impact on the future of Israeli, Jewish and world society, inspired and guided by Rabbi Sacks' vision. Prof. Jonathan Rynhold will serve as academic director of The Jonathan Sacks Institute.
"Over the coming days, we intend to plumb the depths of Rabbi Sacks' political, philosophical, theological, educational and interreligious, thought, and their invaluable influence in a multitude of fields," said Dr. Miriam Feldmann-Kaye, who moderated the event. She added that the conference would feature 38 lectures, with 1,000 participants, on the themes of religious extremism, Bible and commentary, Jewish philosophy, interreligious theology, political thought, ethics, sustainability and more. "Rabbi Sacks said 'intelligence is the capacity to learn, to adapt, to change, to solve problems, to cope with complexity, to evaluate evidence, to judge and to create'. We believe we are in some ways doing justice to his call for courageous intellectual inquiry," said Feldmann-Kaye.
Dr. Feldmann-Kaye's opening remarks were followed by videotaped greetings from State of Israel President Isaac Herzog congratulating Bar-Ilan University and the Sacks family on such an important and meaningful conference.
Prof. Arie Zaban spoke of defining moments in life. One defining moment in his life, he shared, was when he knocked on Rabbi Sacks' door in London. "I had a simple question regarding the role of Bar-Ilan in global Jewry, and I received an intensive and thought-provoking response from Rabbi Sacks," said Zaban. He envisioned the future and provided answers for the strong polarization that we see today through the partnership between science and religion. Sacks said that 'science takes things apart to understand how they work, while religion puts things together to understand what they mean'. "I take this sentence with me wherever I go in representing Bar-Ilan," said Zaban. "I'm sure that through The Jonathan Sacks Institute you will make the legacy of Rabbi Sacks as lively and as meaningful as possible."
Speaking on behalf of the family, Eliot Sacks also touched upon the important connection between science and religion espoused by his late brother. "Rabbi Sacks's voice – the voice of an uncompromisingly orthodox Rabbi who believed in the vital importance of education in the sciences and humanities, and who warned against the dangers of mixing religion and politics – his is a voice that urgently needs to be part of the public conversation – especially in Israel; especially now," said Sacks, adding that it would be a welcome consequence of the conference if Rabbi Sacks' writings were to become "an even more familiar part of the Israeli public conversation."
Like Prof. Zaban, conference organizer Prof. Hanoch Ben-Pazi, Head of the Department of Jewish Philosophy, recounted a meeting with Rabbi Sacks that is vividly etched in his memory. Ten years ago Ben-Pazi met with Sacks at his home in London and raised the idea of holding an academic conference centering on Sacks' philosophical thought. "We had a long conversation, in which he took an interest in my academic research. We discussed the tension between particularism and universalism in Jewish tradition, about the importance of interfaith dialogue, and especially on the importance of thinking about Jewish topics in terms of continental philosophy. We also talked about the importance of writing a systematic philosophical opus, and also about the way he chose to convey his thoughts and ideas in writing," said Ben-Pazi. At the end of this conversation, Sacks surprised Ben-Pazi with his response: "Yes, but please wait, it is still too early". When Ben-Pazi asked him why, Sacks responded: "There is something else I need to write, and only after that will there be room for this academic conference -- a philosophical one".
In his lecture on Rabbi Sacks as Public Intellectual, Prof. Jonathan Rynhold said that the late Rabbi Lord Sacks was exceptional in that he developed a body of thought deeply grounded in the Jewish religious tradition that speaks to the most important contemporary issues for Jews and non-Jews alike. "For many Jews, but also for many people of other religions or no religion, he was looked to as the foremost moral thinker of our age. No less important than the content of his message was his remarkable ability to communicate that message widely, explaining complex issues in short memorable phrases – soundbites of substance. As a result, Jonathan Sacks was able to reach audiences that other Rabbis, Professors and members of the House of Lords could not reach. In our era of intense polarization, he was an exceptional figure, listened to and sought out by religious and secular, Jew and Gentile, Left and Right," said Rynhold, academic director of The Jonathan Sacks Institute at Bar-Ilan. "This conference serves as an academic platform for expanding the reach of Rabbi Sacks voice into the most important contemporary discussions in Israel, among the Jewish people, and in the world at large." 
Prof. Dov Schwartz, of the Department of Jewish Philosophy, delivered a lecture on Rabbi Sacks and Religious Zionism. Prof. Hava Tirosh-Samuelson, of Arizona State University delivered a lecture entitled Rabbi Sacks: A Post-Secular Public Theologian.
The opening session was followed by a festive dinner hosted by the British Friends of Bar-Ilan University.
Additional lectures and panels at the conference focused on Rabbi Sacks as a Jewish Philosopher, Philosophical Dialogue with Rabbi Sacks, The Ethics of Responsibility, The Covenant: Modern Jewish Thought, Countering Religious Extremism, Rabbi Sacks and Biblical Commentary, Orthodoxy and the Confrontation with Modernity, Rabbi Sacks and Religious Leadership, Judaism and Political Thought, Rabbi Sacks and Visions for Israel and the Jewish People in a Global Culture, and a roundtable discussion chaired by Prof. Ben-Pazi.
Conference speakers from abroad included scholars from Harvard University, the University of Oxford, McGill University, Yeshiva University, University of Chicago, Seton Hall University, London School of Jewish Studies and more.
In the picture: Bar-Ilan University President Prof. Arie Zaban, Sacks family members Eliot Sacks, Lady Elaine Sacks, and Brian Sacks, conference chairperson Prof. Jonathan Rynhold, Academic Director of the Jonathan Sacks Institute, Sacks conference chairpersons Prof. Hanoch Ben-Pazi and Dr. Miriam Feldmann-Kaye, and Rabbi Sacks Legacy Chief Executive Joanna Benarroch