02.05.2023 | יא אייר התשפג
Honorary Doctorate Conferment Ceremony, 2023
Former IDF Chief of Staff Lt. Gen. Aviv Kochavi, Atidim Organization, artist Sigalit Landau, Rabbi Yaakov Medan, Yale University Prof. Joan Steitz, and Zehu Ze! will be honored at the ceremony
Image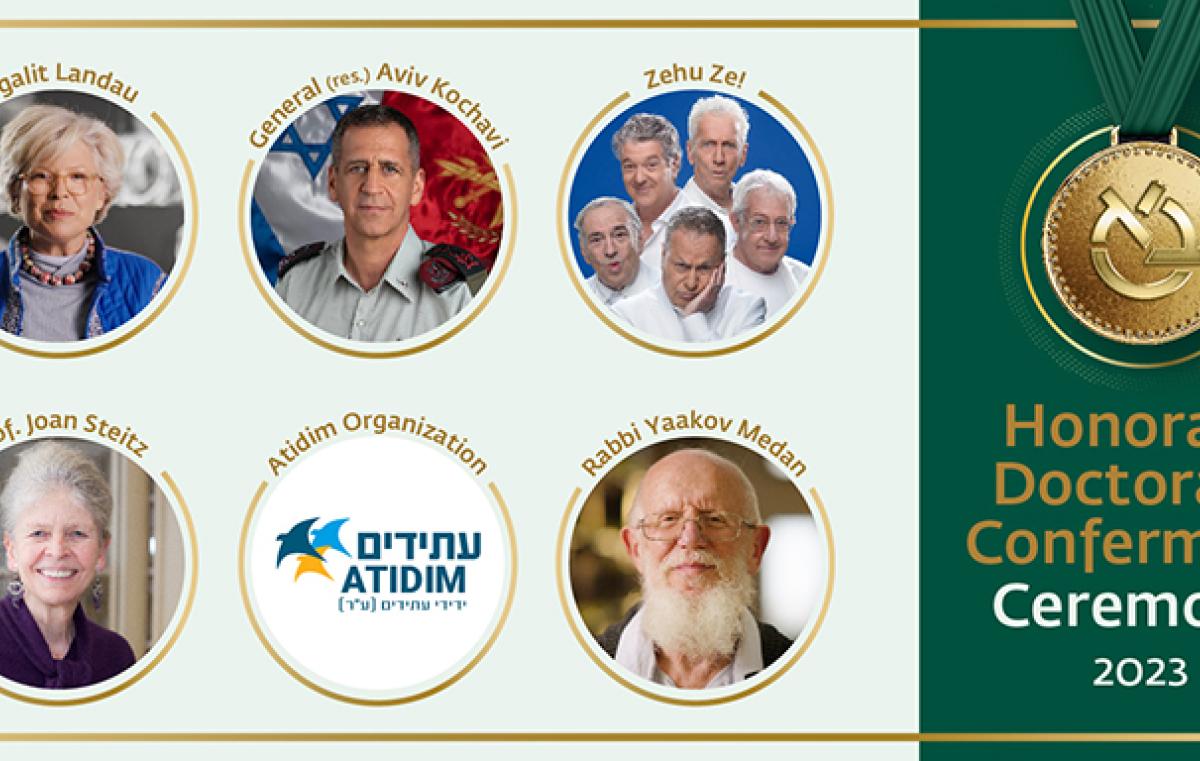 Bar-Ilan University awards outstanding individuals with honorary doctorate degrees for their unique contributions to science, humanity, and the arts in Israel and abroad. This year's honorary doctorate recipients are former IDF Chief of Staff Lt. Gen. Aviv Kochavi, the Atidim Organization, artist Sigalit Landau, Rabbi Yaakov Medan, Yale University Prof. Joan Steitz, and the entertainment troupe Zehu Ze! 
The Honorary Doctorate Conferment Ceremony will be held on the university campus, with a performance by singer Rami Kleinstein.
Bar-Ilan University President Prof. Arie Zaban lauded Lt. Gen. Kochavi's service to the State of Israel in a letter informing him of the honor, which read, in part, "During your term, intensive operational activity was implemented to protect the country's borders and interior. In the interim period between wars, the army's readiness was amplified, and three significant operations were carried out in the Gaza Strip, lending to improvement in the security situation in the region".
Artist Sigalit Landau's interdisciplinary work in a wide variety of media and materials brings the marginal and the hidden to light, and builds bridges between the past and the future, the individual and the collective. Her art embraces such issues as struggle and wars, the environment, and the relationship between humans and nature. Landau's exhibition, The Burning Sea, is currently on display at The Israel Museum.
Rabbi Yaakov Medan, Rosh Yeshiva of Yeshivat Har Etzion, served in the Airborne Nahal Infantry unit and fought in the Golan Heights as a liaison officer in the Yiftach Brigade during the Yom Kippur War. As a fighter, settler, public educator, and rabbi, he has unremittingly worked on every front for the State of Israel, always acting to connect and unify its various sectors through shared understandings and innovative agreements. Together with Prof. Ruth Gavison z"l, he drafted the Gavison-Medan Covenant, a blueprint for defining the relationship between religion and state in Israel in a way intended to retain the state's Jewish character while minimizing religious coercion.
Prof. Joan Steitz, of Yale University is one of the pioneers in RNA biology and has won over 26 prestigious awards for her trailblazing work. Her discoveries, including groundbreaking insights into how ribosomes interact with messenger RNA, may yield new insights into the diagnosis and treatment of lupus and other autoimmune disorders. Described as "one of the greatest scientists of our generation", Steitz has used her platform to tirelessly promote women in science.  
Atidim Organization identifies high-potential young people from Israel's underserved periphery and invests in their education, enrichment, empowerment, and pursuit of excellence. Through financial, academic, and social support, Atidim helps these promising students get on track to higher education and pursue careers in high-tech, engineering, industry, defense and public service. Established in 2000, Atidim creates equal educational opportunity and social mobility, narrows socio-economic gaps, trains Israel's future industry, high-tech and social leaders and builds a stronger Israel for all.
Earlier this week, BIU announced that it will also honor the members of the entertainment troupe Zehu Ze!, Dov (Doval'e) Glickman, Avi Kushnir, Gidi Gov, Shlomo Bar-Aba, and Moni Moshonov – who began performing together in a program on the government broadcasting channel in 1978 and continued until 1998, then reunited for a show on KAN 11 during the COVID-19 pandemic. 
Speaking about the honorees, Prof. Zaban said, "An individual's influence is measured, among other things, by his ability to lead and engage large audiences. All the recipients of this year's doctorate represent the impact and values of the State of Israel in its 75th year."
The honorary doctorate ceremony marking the 75th anniversary of the State of Israel will take place on Monday evening, May 15, 2023, at 7:30 pm in the Dahan Family Unity Park on the Bar-Ilan University campus in Ramat Gan.