01.11.2020 | יד חשון התשפא
Meet Bosmat Meyron
Meet Bosmat Meyron, a graduate student in the Department of French Culture at Bar-Ilan University.
Image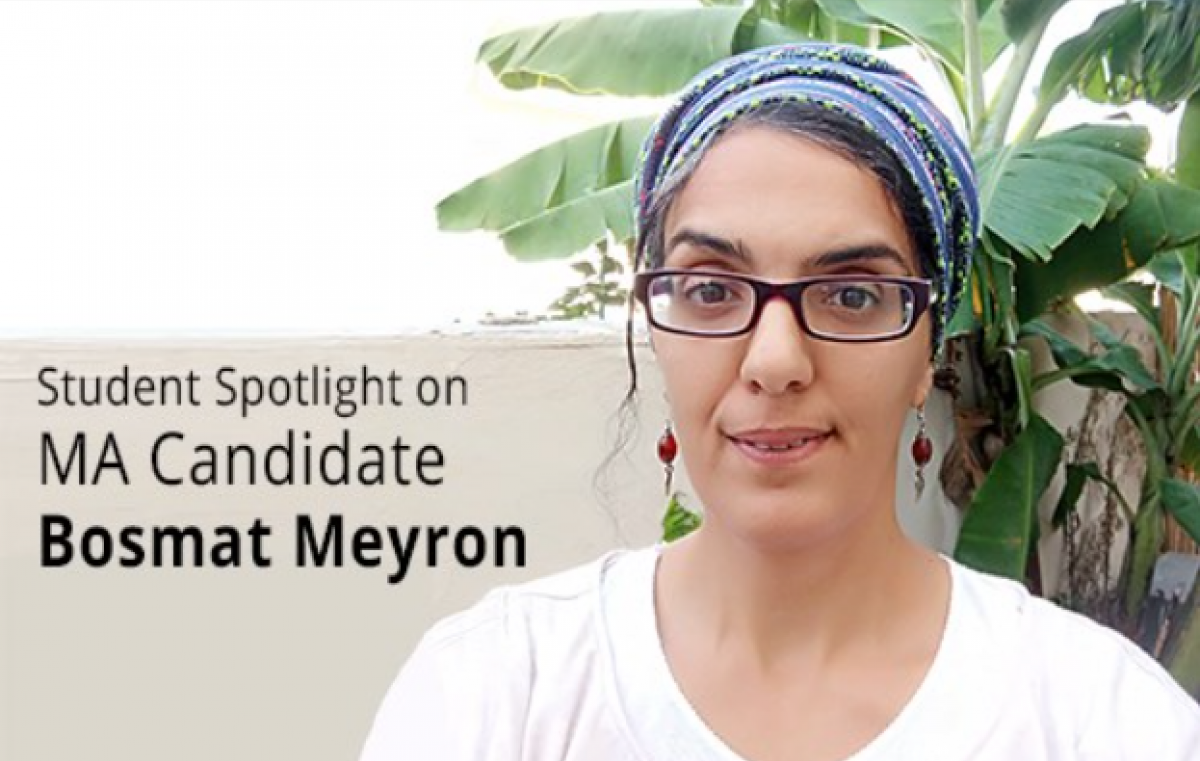 "Femme de mots, de cultures et de langues" – She's a woman of words, cultures and languages. Meet Bosmat Meyron, a graduate student in the Department of French Culture at Bar-Ilan University. She teaches and studies, and hopes to do so "toujours" – always.
Why I chose to study this field:
I wanted to expand my knowledge of languages and culture. After two years of National Service first, in the community of Otniel and then, in an occupational rehabilitation project in Rishon LeZion, I enrolled at Bar-Ilan University's Department of Arabic and Department of French Culture. After completing my undergraduate degree, I worked for several years as a counselor in the Atid Aliyah program for young people from France, and also as a Hebrew-language teacher who prepared pupils for their high school matriculation exams. A little over a year ago, I felt a strong urge to learn again, this time from a linguistic angle and not just for language acquisition and regular use. The Department of French Culture has allowed me to pursue an interesting master's degree with a thesis, where you can choose French- and Hebrew-speaking courses, study comparative linguistics and gain extensive knowledge of literature and culture, with an emphasis on French culture.
What I enjoy most at Bar-Ilan:
I most enjoy the spirit of free research that characterizes the department. Ideas are not just cast upon us, but are offered as food for thought and as a basis for advanced research. Faculty members provide very professional and patient guidance throughout the research process. The student population comprises IDF veterans, young adults who have completed their national service, retirees and everything in between, and that makes the learning environment ever so rich.
My favorite corner on campus:
The Dahan Unity Park, located just below the Fred & Barbara Kort Language Studies Building and the Marcus & Ann Rosenberg Music Building. The Dahan Unity Park has beautiful olive trees, a wonderful scent of fragrant trees, and a constant rustling of leaves.
Future plans:
I plan to submit my MA thesis – a comparative French-Hebrew study on a linguistics mechanism later this year. I also hope to apply linguistic principles that I have learned at Bar-Ilan in my high school classroom.
What I will take with me from my Bar-Ilan studies?
As a teacher and as a student specializing in linguistics, I am able to connect between both sides – the learning and the teaching. Sometimes I have a chance to share the principles I have learned with my Hebrew-language students; it is great when a student re-examines a word and plays with it, and not only because it is for the final exams. In short, for me, there is no "after my studies." I hope to learn always – toujours!
For more on the Department of French Studies: https://french.biu.ac.il/fr/en