16.05.2022 | טו אייר התשפב
Honorary Doctorates for 8 Women
Musician Chava Alberstein, an Israeli high-tech founder, Dr. Orna Berry, businesswoman Julia Zaher, medalist Yael Arad, Rabbanit Malka Bina, Prof. Ruth Arnon, author Galila Ron-Feder-Amit, and social activist Gail Propp
Image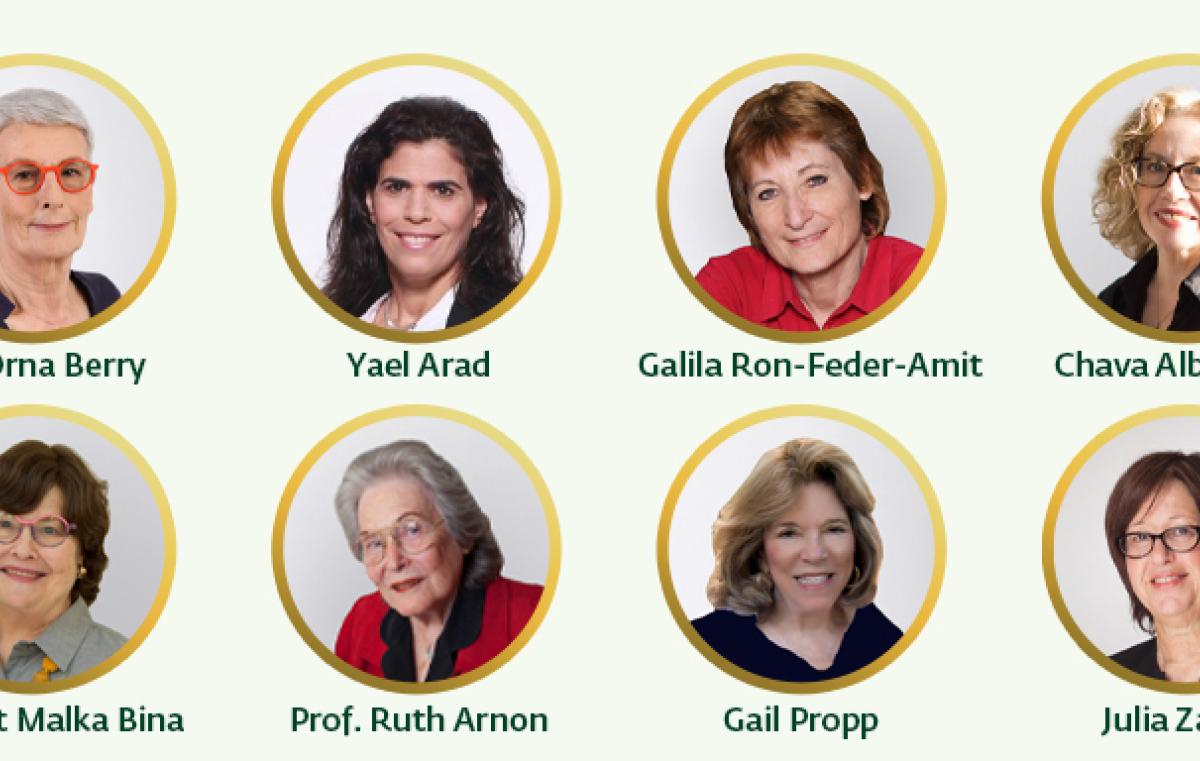 Bar-Ilan University will award honorary doctorate degrees this year to eight influential women in the arts, sports, science, education, and business. Among the 2022 recipients are Israeli musician Chava Alberstein, Dr. Orna Berry, one of the founders of the Israeli high-tech sector, businesswoman Julia Zaher, medalist Yael Arad, author Galila Ron-Feder-Amit and  Rabbanit Malke Bina. The ceremony, one of the most important annual university events, will be held on Sunday, May 22, 2022.
The ceremony will be broadcast live on the university website at 7:30 p.m - log in
Prof. Arie Zaban, Bar-Ilan University President and head of the search committee, explained the decision to bestow honorary degrees this year on women only: "Women's pioneering work in a variety of fields impacts millions of women and men in Israel and throughout the world. This year, Bar-Ilan University chose to celebrate the work and success of influential and inspiring women and to exclusively award them honorary doctorates."
Bar-Ilan University officials note that 2022 is a year of women: nine women currently serve as Israeli government ministers and nine others as CEOs of Israeli government ministries. This is also a year in which women are making an impact as leading scientists and managers in the health systems.  It was therefore decided that it was time to salute women and celebrate their work at the Honorary Doctorate Award Ceremony, which has been held since 1971. An honorary doctorate is considered the most impressive degree a university can bestow in recognition of social impact.
The following are the women who will be awarded honorary degrees:
The musician Chava Alberstein will receive the award in recognition of her profound impact on Israeli culture spanning nearly six decades, her ability to connect past and present and create a sense of optimism, and her collaboration with young musicians, thus building the future of Israeli music.
Athlete and member of the Olympic Committee of Israel, Yael Arad, was chosen to receive the degree in recognition of the excellence, which is a cornerstone of the Olympic Committee's efforts to advance Israeli sports culture. As the first Israeli Olympic medalist, Arad has become a role model for generations of young men and women, and is a symbol of hard work, focus, and adherence to the goal.
Educator Malke Bina will receive the honorary degree in recognition of her pioneering and revolutionary path in initiating the establishment of innovative institutions for women's Torah study, based on equality in education and social inclusion, and for her public activity on behalf of the State of Israel, instilling the values of Zionism and love of Israel in Jewish communities.
The scientist and businesswoman Dr. Orna Berry was chosen to receive an honorary degree in light of her inspiring determination which enabled her to pave her way as a scientist and high-tech entrepreneur, who today figures prominently in technology at the national and international levels.
Businesswoman Julia Zaher was chosen to receive the award in light of her work and contribution to society. As the head of Al Arz Tahini, Zaher has succeeded in preserving traditional processing methods in the factory while promoting innovation and development that has brought Al Arz Tahini – and the name of Israel – to the entire world. .
Biochemist and immunology researcher Prof. Ruth Arnon will receive an honorary doctorate degree in recognition of her research achievements and innovations that have contributed to the advancement of science and medicine, and for her determination in paving her own path, which has also trailblazed the way in academic research for generations of women scientists. 
Social activist Gail Propp is honored for her significant contribution to Bar-Ilan University as a member of the Global Board of Trustees, and as an advocate on behalf of the university and its values in the United States. Propp has also contributed greatly in the fields of health and education: raising awareness of the plight of the Beta Israel community still in Ethiopia and furthering their education. She is also a champion for breast cancer patients and survivors.
Author Galila Ron-Feder-Amit will receive an honorary doctorate in recognition of her contribution to Hebrew literature, and to Israeli culture and society. For half a century, Israeli readers have been drawing strength and values from the heroes and heroines of dozens of Ron-Feder-Amit's works.