12.05.2022 | יא אייר התשפב
Training Program for Prediabetes Treatment
Medical professionals were trained to treat prediabetes as part of the Russell Berrie Galilee Diabetes SPHERE initiative
Image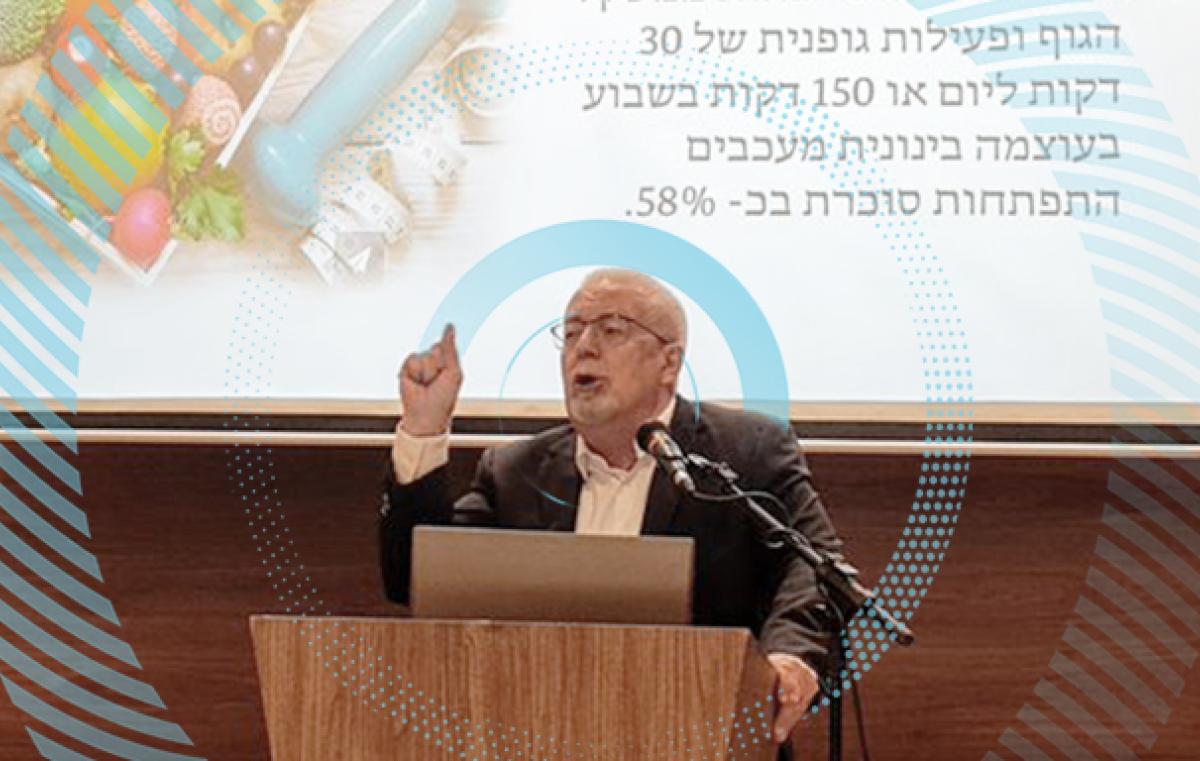 This week, a training project for medical professionals was launched in Nazareth to help facilitate early detection of prediabetes among patients. In the framework of the project, approximately 50 medical professionals from the Clalit and Maccabi healthcare services were trained to provide advanced treatment and to diagnose prediabetic patients. The project is part of the Russell Berrie Galilee Diabetes Social Precision-medicine Health Equity Research Endeavour (SPHERE) at Bar-Ilan's Azrieli Faculty of Medicine, which aims to reduce the number of prediabetics and thus curb the rise in diabetes in Israel.
While treating the patients, the medical professionals will receive support and advice from an endocrinologist and a clinical pharmacist. The patients themselves will receive a personalized treatment package administered by a multi-professional team including a diabetes counselor, nurse, dietician, and exercise counselor. The treatment sessions will be conducted online, following which the attending physician will be updated and can proceed to administer further care.
The project seeks to reduce the transition from prediabetes to diabetes by 50% while promoting healthy lifestyle changes. The project comprises medical professionals from a variety of fields, including family medicine, nursing, nutrition, and social work.
Prof. Naim Shehadeh, Director of the Diabetes SPHERE, said that every year 6%-8% of patients diagnosed with prediabetes are likely to develop diabetes; however, early detection and simple treatment can prevent the onset of the disease. "In order to reduce the number of diabetics, we chose to focus our first step on prediabetics, an important risk group that can be helped by means of a change of lifestyle and simple and inexpensive medications. This intervention is expected to reduce the morbidity rate of diabetes by half, which will also save the Israeli economy millions of shekels every year.
Dr. Sivan Spitzer, Deputy Director of the Diabetes SPHERE, noted that the project will initially operate in the cities of Nof HaGalil and Nazareth and will comprise some 500 patients from each city. Dr. Spitzer further explained that the project will map out a target audience and will raise awareness of the importance of prediabetes testing. Dr. Rizan Sakhnini, district physician in Maccabi's Northern District, added: "The project will help many patients in Maccabi's northern district adopt a healthy lifestyle."
Dr. Yousef Awni, Deputy Director of Clalit's Northern District, Assistant Head of Clalit's Division for Health in the Arab Sector, and Director of the Nazareth Tower Medical Center, emphasized: "This war against the diabetes epidemic is a wonderful example of cooperation between relevant elements that puts a focus on the patients. This is done from a mutual desire to create an optimal standard of care. I am certain that Clalit patients will benefit from this cooperation."
Residents of the Galilee suffer from the highest rates of morbidity and diabetes-caused complications and mortality in Israel. The goal of the Diabetes SPHERE is to change the current reality in two ways. First, it seeks to reduce the morbidity and mortality rates of diabetes in the Galilee to be on par with the general rate in Israel. Second, it aims to develop models, paradigms, scientific and medical discoveries, and new treatments for diabetes that are appropriate for social peripheries worldwide.