18.05.2022 | יז אייר התשפב
Outstanding Lecturers of 2021-2022 Academic Year
19 lecturers from an array of fields receive awards for excellence
Image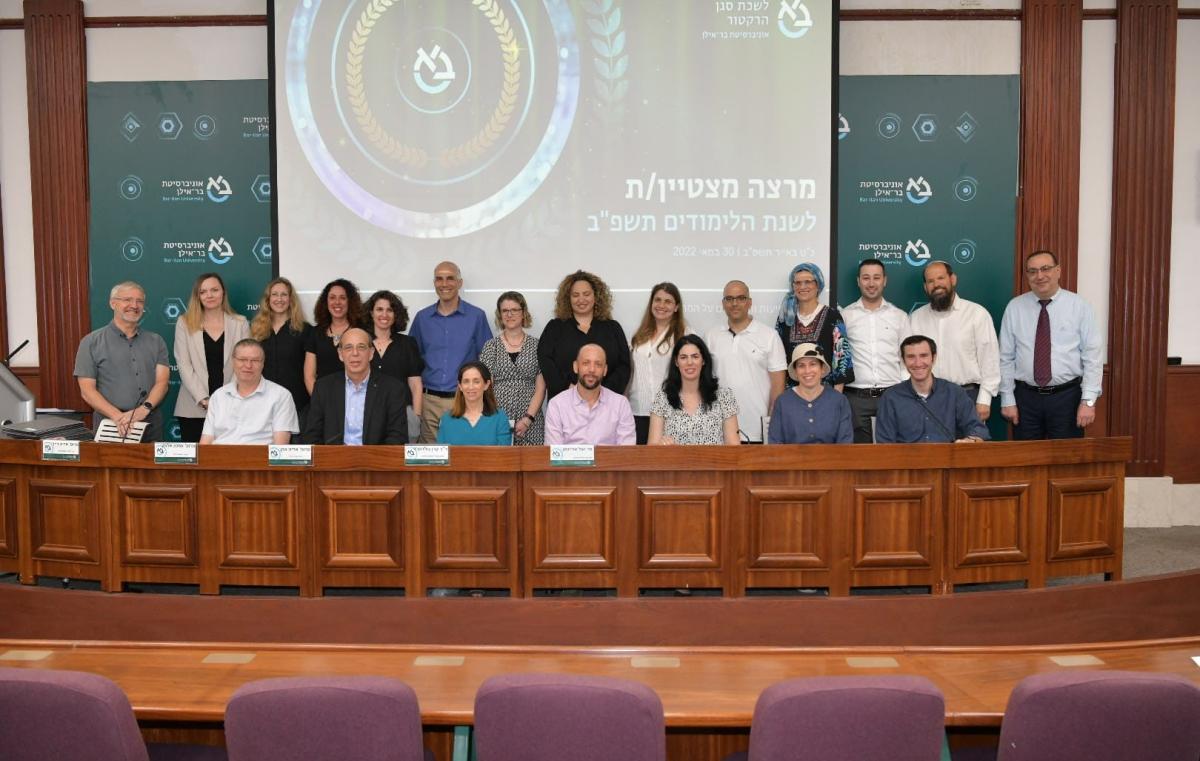 Nineteen outstanding lecturers were granted awards for demonstrating professionalism, innovation, and creativity in teaching over the course of the 2021-2022 academic year.
The lecturers received the award on May 30 at a ceremony moderated by university Vice Rector Prof. Arie Reich.
A special committee comprised primarily of outstanding lecturers from previous years selected this year's awardees, who received the highest scores on teaching surveys filled out by students as well as recommendations from their respective department heads.
Awards of excellence were also granted to the Department of Comparative Literature and to the School of Optometry and Vision Science, and certificates of commendation were awarded to the Department of Arabic, Department of Physics, Program for Hermeneutics & Cultural Studies, and Teacher Training Program.
The award recipients (in alphabetical order):
Dr. Said Abu Zaid, Azrieli Faculty of Medicine

Dr. Yossi Ben-Zion, Department of Physics

Dr. Galit Butbul, Department of Management

Dr. Tamar Chen-Levi, Faculty of Education

Dr. Maya Cohen-Malayev, Faculty of Education

Dr. Julia Elad-Strenger, Department of Political Studies

Prof. Meital Gal-Tanamy, Azrieli Faculty of Medicine

Dr. Fadi Hassan, Azrieli Faculty of Medicine

Dr. Hana Hendler, Midrasha, Jesselson Institute for Advanced Torah Studies

Dr. Natalia Meir, Department of English Literature and Linguistics

Immanuel Meyer, Department of Physics

Dr. Moshe Natan, Martin (Szusz) Department of Land of Israel Studies and Archaeology

Prof. Motti Neiger, School of Communication

Dr. Rachel Persky, Department of Chemistry

Reut Plen, Alexander Kofkin Faculty of Engineering

Rabbi Eyal Vered, Midrasha,

Jesselson Institute for Advanced Torah Studies

Dr. Shlomit Weiss-Dagan, Weisfeld School of Social Work

Dr. Nissan Yissachar, Goodman Faculty of Life Sciences

Dr. Yael Shoval Zuckerman, Weisfeld School of Social Work