24.10.2022 | כט תשרי התשפג
Silver Medals for Israeli Computer Science Team Members from BIU
Four students who won medals in the European Girls' Olympiad in Informatics were trained at the Bar-Ilan University Youth Center
Image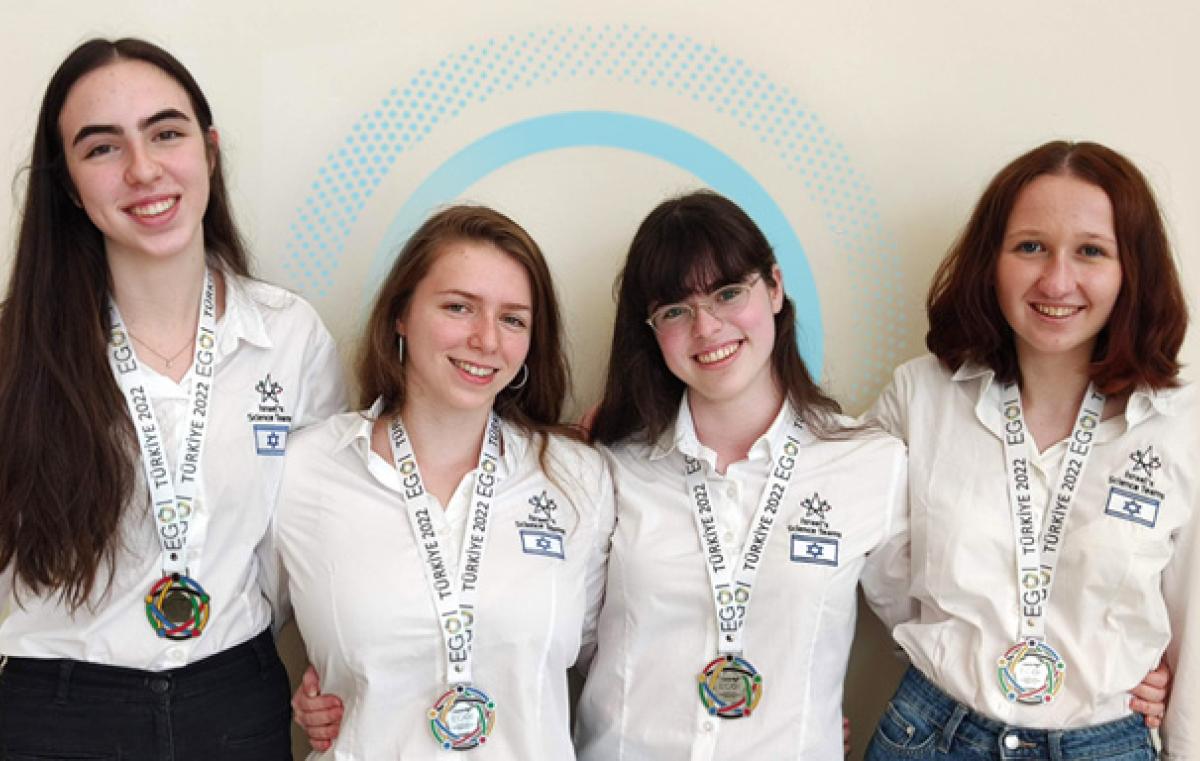 Four high school students on the Israeli computer science team won silver medals this year at the European Girls' Olympiad in Informatics (EGOI). The team members were trained at the Bar-Ilan University Youth Center.
The winners are Shirli Mushkatin from Zichron Yaakov, Yael Ginzburg from Jerusalem, Lior Altahan from Kiryat Ono, and Shir Ariel from Kiryat Motzkin. The delegation was led by a team of coaches headed by the academic director, Dr. Avshalom Elmalech, and the head coach, Ron Ryvchin. Accompanying the delegation were Ron Ryvchin, Yali Hecht and Ronit Stein.
The Olympiad in Informatics, held in Turkey, was attended by 160 contestants from 44 countries. During the two-day competition, students needed to solve four complex problems using a code, within five hours. The challenging tasks required creative thinking and competitive programming skills.
The recent European Olympiad ends the international Olympics season, during which students on the Israeli national team made impressive achievements, winning 26 medals and ranking Israel alongside the foremost countries in the sciences.
The Israeli Ministry of Education and the Future Scientists Center of the Maimonides Fund jointly lead the training of the Israeli science teams for participation in the international Olympics.
Prof. Arie Zaban, President of Bar-Ilan University, said: "We are proud to train curious and smart girls in the future professions of computer science. They inspire and serve as an example to thousands of other girls who will hopefully follow in their footsteps into the hi-tech professions and represent Israel with honor in the future as well."
The Israeli Minister of Education, Dr. Yifat Shasha-Biton, added that the current achievement proves that there is great talent among the youth.  "I congratulate Shirli, Yael, Lior and Shir for their great success in the competition, and no less important – for the path they took to there.  You provide Israeli students with a genuine example of perseverance, dedication and, of course, achievements. Congratulations also to the staff that accompanied them and to the proud and excited families."
CEO of the Future Scientists Center Eli Fried: "The achievements in the Olympiad are the result of determination, dedication, perseverance and effort, in addition to the tremendous talent with which the students are blessed. I am convinced that the students on the Israel science teams will take significant part in shaping the future of the State of Israel and will leave their mark in various areas of life.
This week the selections for Israel's national science team are underway for participation in next summer's international Olympiad. The screenings for the teams (mathematics, physics, chemistry, biology and computer science) will be held online. For details, visit the Student Portal – Israel Science Team