30.05.2021 | יט סיון התשפא
BIU Honorary Doctorates 2021
Ceremony on Sunday, May 30 at 6:00 pm
Image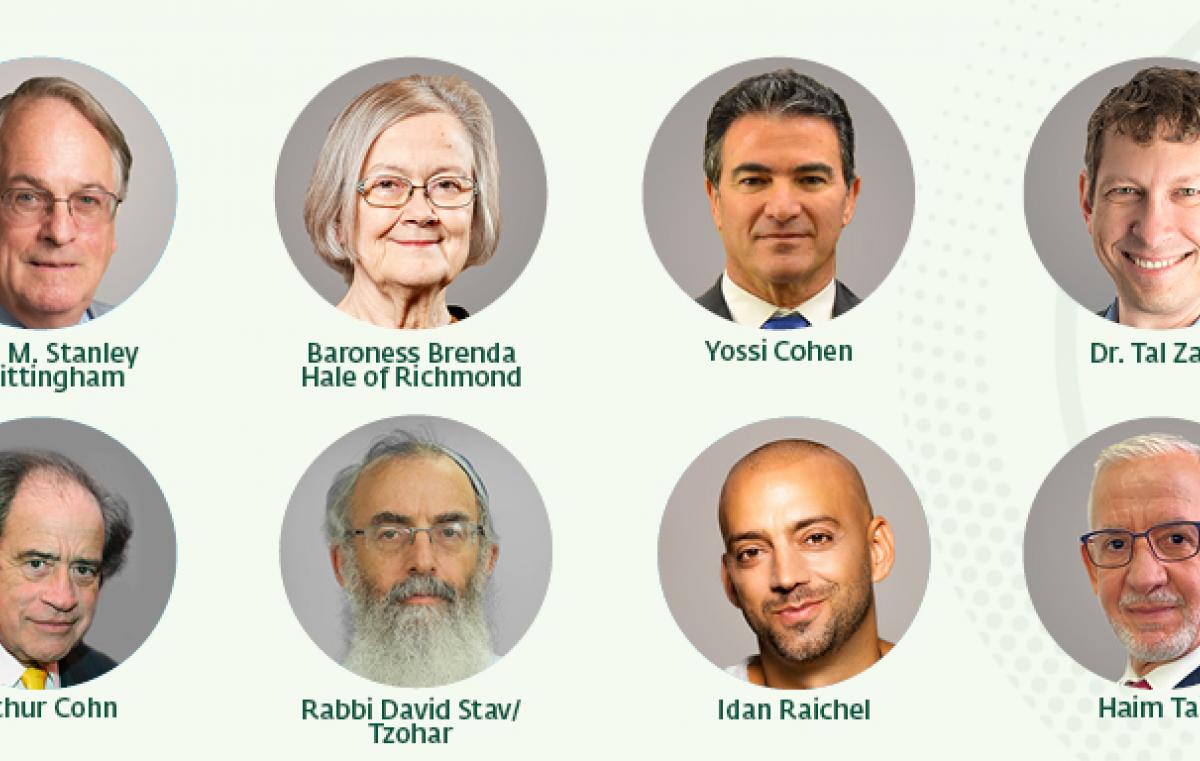 On Sunday evening, May 30, at 6 pm Bar-Ilan University will award Honorary Doctorates to individuals and organizations who've impacted a broad range of disciplines in Israel and around the world. 
 
The University's Honorary Doctorate recipients for 2021 are: Mossad director Yossi Cohen; Academy Award-winning film producer Arthur Cohn; former UK Supreme Court president Baroness Brenda Hale of Richmond DBE; singer, songwriter and composer Idan Raichel; entrepreneur and philanthropist Haim Taib; Rabbi David Stav on behalf of the Tzohar Rabbinical Organization; Nobel Prize laureate Prof. M. Stanley Whittingham and Moderna chief medical officer Dr. Tal Zaks.
"In this complex year, we would like to pay special tribute to individuals and an organization who have influenced society through extraordinary excellence, perseverance and willingness to adapt to changing realities. We are very proud that they will be honored by us and thus join the Bar-Ilan community."
Mossad director Yossi Cohen will be recognized for his work for the safety and well-being of the citizens of Israel, for decades of commitment, innovation and excellence in the service of the State, and for his role in the process that led to the signing of the Abraham Accords. Cohen, who completes his tenure as Mossad director on Tuesday, June 1, will deliver remarks on behalf of the Honorary Doctorate recipients.
Producer Arthur Cohn will be recognized for his decades of achievement in film production, his identification with the Jewish People, and his desire for a divinely inspired, just society.
Bar-Ilan will confer an Honorary Doctoral Degree upon The Right Honourable the Baroness Hale of Richmond DBE in recognition of her outstanding efforts on behalf of women and minorities, and to secure elevated rights for all citizens, as well as her dedication to the protection of democracy and basic human rights.
Singer, songwriter and composer Idan Raichel will be acknowledged for his unique contribution to the world of music, for making various voices heard, and for his ability to weave all shades of sound into a vibrating Israeli harmony that touches humanity and brings hearts together.
Entrepreneur and philanthropist Haim Taib will be singled out for his philanthropic activities for underprivileged populations in Africa and Israel, for his initiatives to restore health and economic security in Angola following national catastrophe, and for founding the Israeli Congress for Judaism and Democracy to form a path towards a pluralistic society in Israel that embraces all Jewish sectors and serves as a home for Jews worldwide.
The Tzohar Rabbinical Organization, represented by Rabbi David Stav, will be feted for the efforts of the organization and its leaders to make religious activities accessible to the Israeli public, for their support and contribution to creating an open and inclusive discourse, for their revolutionary work on religious issues, such as marriage, conversion and kashrut, and in admiration of the unity it instills in the entire people of Israel.
Nobel Prize laureate Prof. M. Stanley Whittingham will be honored for his contributions to energy storage and electromobility, his key role in the development of lithium-ion batteries and his innovation to develop alternative, sustainable energy technologies.
The ceremonial "hooding" of Dr. Tal Zaks, chief medical officer of Moderna, took place at Bar-Ilan University during his recent visit to Israel. Zaks was chosen to receive an Honorary Doctorate in appreciation of his contribution to global health during the COVID-19 pandemic, and in appreciation of the life-saving work of Moderna for bringing hope and health to humanity worldwide.  
Bar-Ilan University has awarded honorary degrees since 1971 to leading figures from both Israel and abroad who have made noteworthy contributions to science, scholarship, culture, and the arts, and which, in turn, have made a meaningful impact on society.
The event will take place live and online on Sunday evening, May 30, 2021. It will be streamed live on the Bar-Ilan.