01.03.2022 | כח אדר א' התשפב
Studies During Academic Year 2021-2022
Information on studies in classrooms, libraries and labs, Green Pass guidelines, and all campus services
Image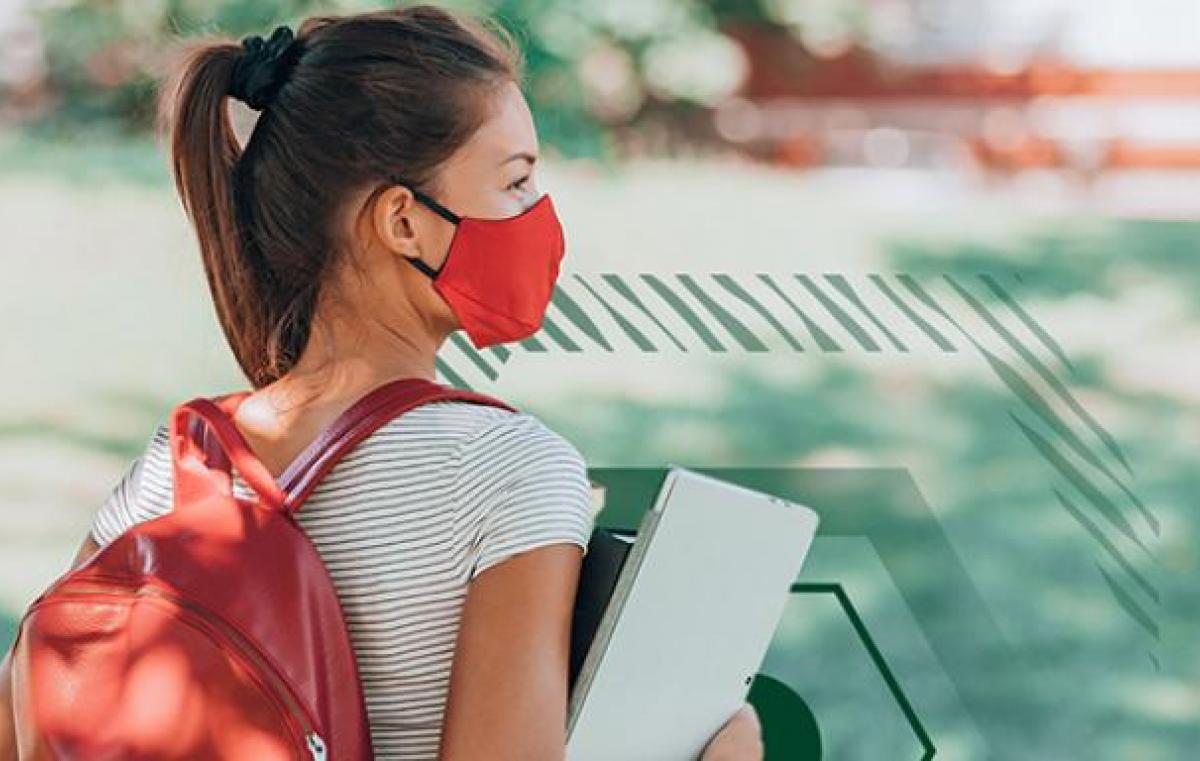 With the onset of the new academic year and the resumption of studies in classrooms, lecture halls, laboratories and public areas on campus, we have gathered for you all the information about study spaces, services and facilities on the Bar-Ilan University campus.
According to the government's decision, all universities are required to act in accordance with the Green Pass regulations, which allow entry to campus for those who are vaccinated, recovered, or who present negative COVID-19 test results (taken no more than 72 hours prior to campus entry).  At Bar-Ilan University, this requirement applies to all entering the university, including employees and lecturers. Information on Green Pass Restrictions.
Classroom and Online Studies
Most of the studies during Academic Year 2021-2022 are planned to be held in BIU campus classrooms, lecture halls, laboratories and libraries. Only for those students who are unable to come to campus, the university will make learning accessible via live broadcast of lectures or through lecture recordings. Here is an instructional video on how to view these lectures.
All 29 campus libraries are open for your use. They can also be used as study spaces for group discussions (in designated areas) or individual study, including connection to recorded and broadcast lectures and e-learning courses. To locate the libraries, you can use the campus map. You must book in advance library study areas via the library system.
In some programs, mainly for a master's degree but also for some undergraduate programs, online and or e-learning courses have also been incorporated.
In addition, open-air study areas are situated in four locations on campus: the Bob Shapell Park across from the minimarket; under the bridge in front of Building 1004; under a gazebo across from the Gonda Multidisciplinary Brain Research Center; and in the plaza of the Faculty of Law complex near Building 300.
The Bar-Ilan app – also includes a digital student card that allows you to conveniently enter various areas on campus, including the libraries, without having to carry a physical card with you. To download the app
New Students
Many of the undergraduate and laboratory courses including hands-on experience will be frontal, in order to allow new students to adapt more easily, while safeguarding their health.
An orientation to acquaint new students with academia was held on Zoom on Monday, September 13. The session presented methods for effective and beneficial learning, and practical tools for improving learning skills from the very first stage, in order to strengthen self-confidence and to improve the sense of success in studies. The session included a lecture, practical examples and tips. Time was also allocated for discussion, questions and answers. 
In addition to this meeting, the Bar-Ilan Student Union, together with the Office of the Dean, invites new students to join the "Soft Landing" program, in which students who have already begun their studies will serve as mentors to new students throughout the academic year. To register for the project
For questions and more details about the project, you can contact the BIU Student Union on Facebook or by phone (messages only) – 03-5317476.
Administrative Services for Students
The "Open Door" channel – all academic and administrative units will be available to you in an innovative digital arena, where you may receive information and services in various areas. To enter the arena, click here.
In the first week of the new academic year, representatives of the relevant administrative units will be waiting for you in the Service and Recruitment Center (Area 502 Building 19).  We will be happy to answer all your questions. There will be representatives from the following units: Tuition, Curricula and Follow-up (TELEM), Status, Scholarships, Admissions, School of Graduate Studies, and the Service and Recruitment Center.
Students who are unable to come to campus will be able to view lectures held in a hybrid classroom through the moodle in real time and also later. For a tutorial video (in Hebrew).
Information about Green Pass Guidelines
Student Service Center
Services are provided in the following channels:
Online application form
Chat on the BIU website
WhatsApp – 052-6171988
Telephone Answering service - *9392, 03-5317000
The center's zoom room is active on Sundays, Tuesday and Thursdays, from 10:00 to 12:00
University Entrances
Gate 1 (Main Vehicular Entrance)
Open 24 hours a day
Gate 10 (Sport)
Open 6:00 am - 6:00 pm (Fridays until 2:00 pm)
Gate 2 (Bank Mizrahi)
Open 6:30 am - 10:00 pm (Fridays until 2:00 pm)
Gate 5 (Dekalim)
Open 6:30 am - 8:00 pm (Fridays until 2:00 pm)
Pedestrian Gate 10 (Sport)
Open 6:00 am - 6:00 pm (Fridays until 2:00 pm)
Gate 15 (Electra Dorms)
Open 9:00 am - midnight (Fridays from 9:00 am until midnight Saturday)
Pedestrian Gate 20 (Music)
Open 6:30 am - 8:00 pm (Fridays until 2:00 pm)
Gate 25 (Herzog)
Open 6:30 am - 8:00 pm (Fridays until 1:00 pm)
Gate 30 (Geha)
Open 6:30 am - midnight (Fridays until 2:00 pm)
Gate 40 (Kiryat Ono)
Open 6:30 am – 6:00 pm (Fridays until 12 pm)
Parking
There are three parking lots located around the university:
On Jabotinsky Street, Givat Shmuel, behind the Music Building (1005).
On Max veAnna Webb Street, near Gate 10 (Sports), across from the Wohl Center (1401).
The Wohl Center parking lot.
The parking lot by the Economics Building (504) has closed.
Parking fees: For guests, 20 ILS for the entire day.  For BIU Student Association members (who pay welfare fees), 10 ILS for the entire day.
The university is working to prepare two additional parking lots east and west of Gate 10 in order to increase parking spaces for students.
Shuttle
The electric shuttle will operate around campus every 20 minutes. The accessible shuttle will pass by every hour, on the hour. Please follow the Purple Standard guidelines and the instructions of the shuttle driver.
Restaurants and Food Stands
Karnaf Cafe- Sunday-Thursday, 7:30 am - 4:00 pm
Internet Café – Sunday-Thursday, 8:00 am - 6:00 pm
Rosmarine – Sunday- Thursday, 8:00 am - 6:00 pm
Vending machines – throughout campus, available throughout the week
Coffee wagons and additional cafeterias will open in the future.
Minimarket on South Campus
Open Sunday-Thursday, 7:30 am - 6:00 pm
Printing Services
Mafil – Sunday-Thursday, 8:00 am - 3:00 pm (until 5:00 pm, during academic year)
Building 405, near Administration Building
Hours may fluctuate according to COVID-19 infection rates
Shoemaker and Key Duplication
Shoes, clothes, zippers, leather belts and backpack repair. Sells batteries, watch straps, shoe polish, insoles, shoelaces and key duplication.
Located at Student Union building (107), Sunday-Friday 9:00 am - 1:00 pm (9:00 am - 4:00 pm, from October 10, 2021)
Post Office
Administration Building (402), Floor -1, open Sunday-Thursday 9:00 am – 2:00 pm
Bank (Mizrahi-Tefahot)
University tuition payments, cash withdrawal, check deposits, and more.  Location: Next to Gate 1 (main vehicular entrance), on right. Open Sunday, Tuesday, Thursday from 8:30 am - 2:00 pm, Monday and Wednesday from 8:30 am - 1:30 pm and 3:30 pm - 5:30 pm. Friday and holiday eve from 8:30 am - 12:00 pm; Phone: 076-8040140, *8860
Construction along the Light Rail Route
Work to pave the light rail tracks in the area near Bar-Ilan University is underway and is being carried out in full coordination with the university and NTA (the government agency which oversees the light rail project in the Tel Aviv metropolitan area), to minimize disruptions to campus life.  At this stage, the work is being carried out between the Bar-Ilan junction and what was once the entrance to the Economics parking lot (the parking lot is closed).  It has been arranged with NTA that Gate 1 (the main vehicular entrance) will remain open for the entry of vehicles.