17.01.2023 | כד טבת התשפג
5 of Bar-Ilan's Most Influential Graduates
Marking 5 consecutive years as the Israeli university with the fastest-growing student population , Bar-Ilan presents 5 of its most influential graduates
Image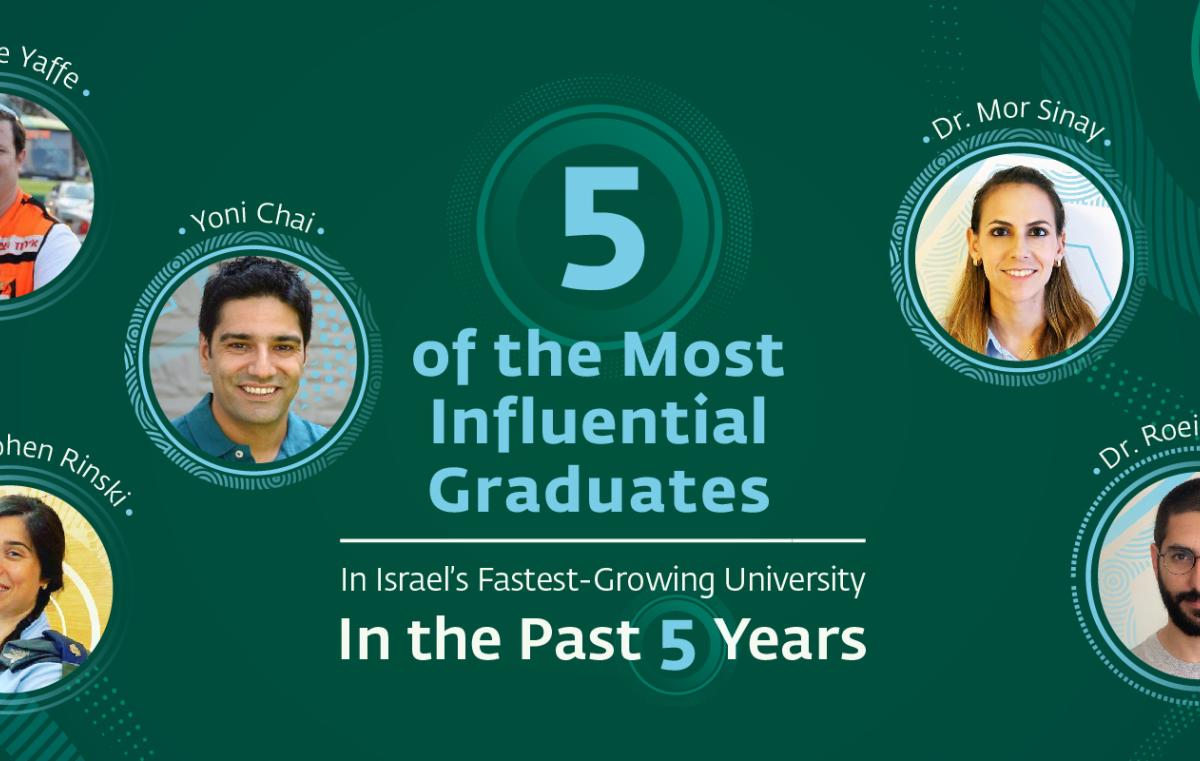 Bar-Ilan University has recorded an extraordinary achievement for five consecutive years. According to CBS data, Bar-Ilan has the fastest-growing student population among all Israeli universities. 
Gearing up to the February 10 Open House, we have created a series of 5 articles exposing you to the research, students, campus locations, social activities, and the graduates who have played significant roles in Bar-Ilan's growth. Meet them: 
Yoni Chai, Promotes Leadership Development in the Community
Yoni Chai graduated with a bachelor's degree in psychology and economics and a master's degree in organizational psychology from Bar-Ilan University. 
Completing his studies, he used his acquired tools to affect the community and society. Since his studies, Yoni has developed an extensive career: upon graduation, he began working as a leadership development consultant at the IDF's Leadership Development School. Two years later, he began working as a team leader at the Even Derech company, specializing in organizational development through experiential learning.
Today, Yoni and his wife Adi, an organizational consultant, manage the "Capsule - Adventurous Organizational Development" company they founded. The experience of his studies accompanies Yoni all the way: "I remember the high-quality and intimate group we had during my master's degree," he says, "We were a group of 15 very cohesive students, and I keep in touch with some of them to this day. My professional path crossed with some lecturers, and we worked together on joint projects. Practical courses such as team mentorship and consulting influenced my professional perceptions, and the theoretical knowledge I acquired formed my professional understandings."
Esther Cohen-Rinsky, Crisis Management, and the IDF Public Image 
Esther Cohen-Rinsky graduated from the School of Communication on a research track. Today, she is the spokeswoman for the IDF's technology and logistics division ranking as a major and is studying for her Ph.D. at the Bar-Ilan School of Communication.
"I came to crisis management through my lecturer, Dr. Khalila Magen, an expert in communication crisis management in Israel. Magen exposed me to the contribution of communication in managing organizational crises and how to operate under a crisis. Working in the field as part of my studies contributed greatly to my military duties, especially my current position, as I promote processes, analyze media trends, and successfully deal with complex organizational crises," says Esther.
Dr. Roni Aharon Develops Complex Translation Models for Google 
Dr. Roi Aharoni is a graduate of the computer science department at Bar-Ilan University and a research scientist at Google Israel. 
His Ph.D. thesis, in the natural language processing laboratory, deals with deep learning methods for language processing, emphasizing automatic translation between languages. 
"Language technologies help us all the time - in every search we conduct on the Internet, and every message or document we type on the phone," says Roi, "my research focused on models that produce text automatically, such as automatic translation, summarization, or dialogue systems. With the increase in the amount of textual information on the web, it must be accessible to as many people as possible in different places and languages. This requires the development of models that support multiple languages and comprehensive capabilities for automatic translation. Furthermore, as technology advances, we must build such models with high responsibility since more complex texts increase the risk of false or biased claims and offensive information."
Dr. Mor Sinai Develops Drones and Robots 
Dr. Mor Sinai completed her computer science and mathematics undergraduate studies with honors and immediately continued to study for a master's degree in applied mathematics, which she also completed with honors. After that, she worked for four years at "Marvel" and returned to doctoral studies in robotics and computer science under Prof. Sarit Kraus and Prof. Noa Agmon. Upon completing her doctorate, Sinai began working for Facebook.
"The first part of my research dealt with the question of how to get robots to scan a field while maintaining communication - research that should help rescue forces who deploy robots before entering themselves," she explains, "the second part examined how using drones and uncrewed vehicles could aid in capturing infiltrators when nothing but the entry point is known to us. 
Finally, the third part of my study dealt with an innovative method for solving problems. The method's called 'black box' and refers to learning with the help of a neural network."
Mor remembers her years of study fondly: "I spent many years at Bar-Ilan University. The people I met along the way shaped my character and made me a better person. I also taught quite a bit during my master's degree and doctorate, and I am glad I was able to influence students at the beginning of their path.".
Dr. Aryeh Yaffe, a Life Saver, and Intrauterine Surgeon 
Dr. Aryeh Yaffe completed his medical studies at Bar-Ilan University's Azrieli Faculty of Medicine in the Galilee. He currently works as a gynecologist specializing in intrauterine fetal surgery. In addition, he volunteers in the bike unit of Ichud Hatzala, and was one of the founders of their midwifery unit.
One of the first events that influenced Dr. Yaffe as a student at the Azrieli Faculty of Medicine, was visiting the Galilee Medical Center's Women's Department in Nahariya, under the management of Prof. Jacob Bornstein: "He made us feel part of the team and allowed us to get a close-up impression and experience." The studies at the faculty in Safed affected Yaffe, who concludes: "The distance from Israel's central region creates a fruitful and active community life like in college abroad. I made friends for life. Beyond that, we learned the most important aspect of medicine: to experience all patients as equal human beings."
To register and attend the open house follow this link.