17.01.2023 | כד טבת התשפג
5 Inspiring Locations on Bar-Ilan's Campus
Bar-Ilan University has recorded an extraordinary achievement for five consecutive years. According to CBS data, Bar-Ilan has the fastest-growing student population among all Israeli universities.
Image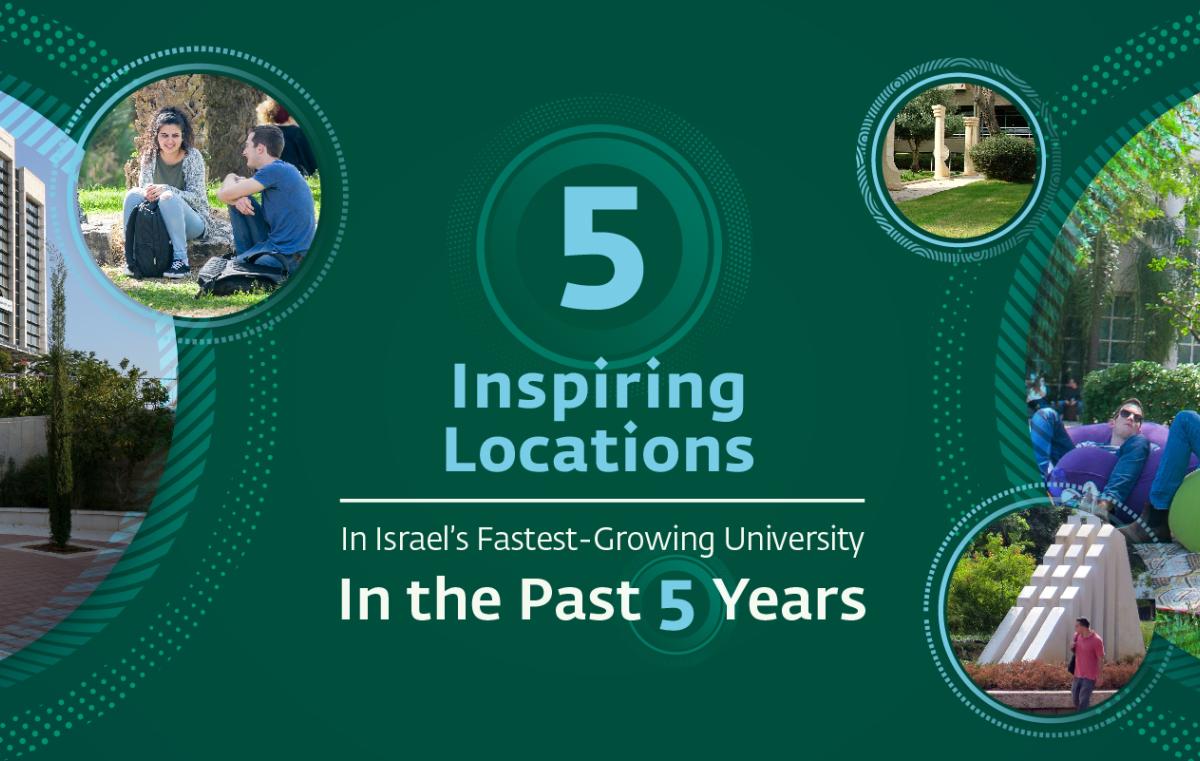 Gearing up for the February 10 Open House, we have created a series of 5 articles exposing readers to the research, students, graduates, campus locations, and social activities which have played significant roles in Bar-Ilan's growth. 
Today we would like to invite you to tour our campus and visit 5 most inspirational locations: 
Inspirational Story Gardens
Bar-Ilan's campus spreads over 140  acres of cultivated gardens and greenery. 
The buildings, study halls, and laboratories on Bar-Ilan's campus are interconnected by many paths encouraging students and visitors to walk, reflect, and connect to nature and history. 
Seating areas situated between the campus buildings provide a welcoming venue for social gatherings and also serve as tranquil corners for quiet study in a natural environment. Throughout the university are themed gardens inspired by stories from Jewish tradition and philosophical ideas. Walking through the artfully landscaped campus dotted with sculptures is an inspiring and aesthetic experience.
Ecology and the Environment
An innovative and ecological biological pond on the library plaza serves as a model  of natural water purification and environmental protection. Another example of combining aesthetics with quality of life and the environment is the green wall - a vertical garden that extends over several stories in  two adjacent exterior walls. The green wall is part of a study on heat islands, which takes place at the Bar-Ilan Center for Smart Cities. It is designed to reduce noise and air pollution in congested urban areas..
A Green Oasis in the Center of Gush Dan
The Dahan Family Unity Park, the largest park in the university, is located on the north campus. The shaded park allows students and visitors to take a break from their busy schedulesand relax in a green setting. Important events, such as the honorary doctorate award ceremonies, are held in the amphitheater at the Dahan Unity Park. 
The Central Promenade
To reach the Dahan Unity Park, you  walk on the Lilly Shapell Central Promenade of the campus. This promenade is the venue for student union events, parties, a weekly booth fair, the "Hafsa-keif" events, and other gatherings that have become a tradition and part of university life.
A Home of Art and Thought
The central library on the BIU campus is not only serves as a place for study and and preparing for exams but also as a home for changing art exhibitions and cultural events. 
Throughout the year, art exhibitions are hosted in the lobby of the central library, presenting works of sculpture, photography, literature, poetry, painting, and multimedia on a wide variety of subjects. Those exhibitions last for about a month and attract a large and diverse audience - students, lecturers, researchers, university employees, and many guests, who benefit from the enriching exhibitions. 
Register for the upcoming open house.