17.01.2023 | כד טבת התשפג
5 of Bar-Ilan's Influential Students
Marking five consecutive years as the Israeli university with the fastest-growing student population, Bar-Ilan presents 5 of its influential students
Image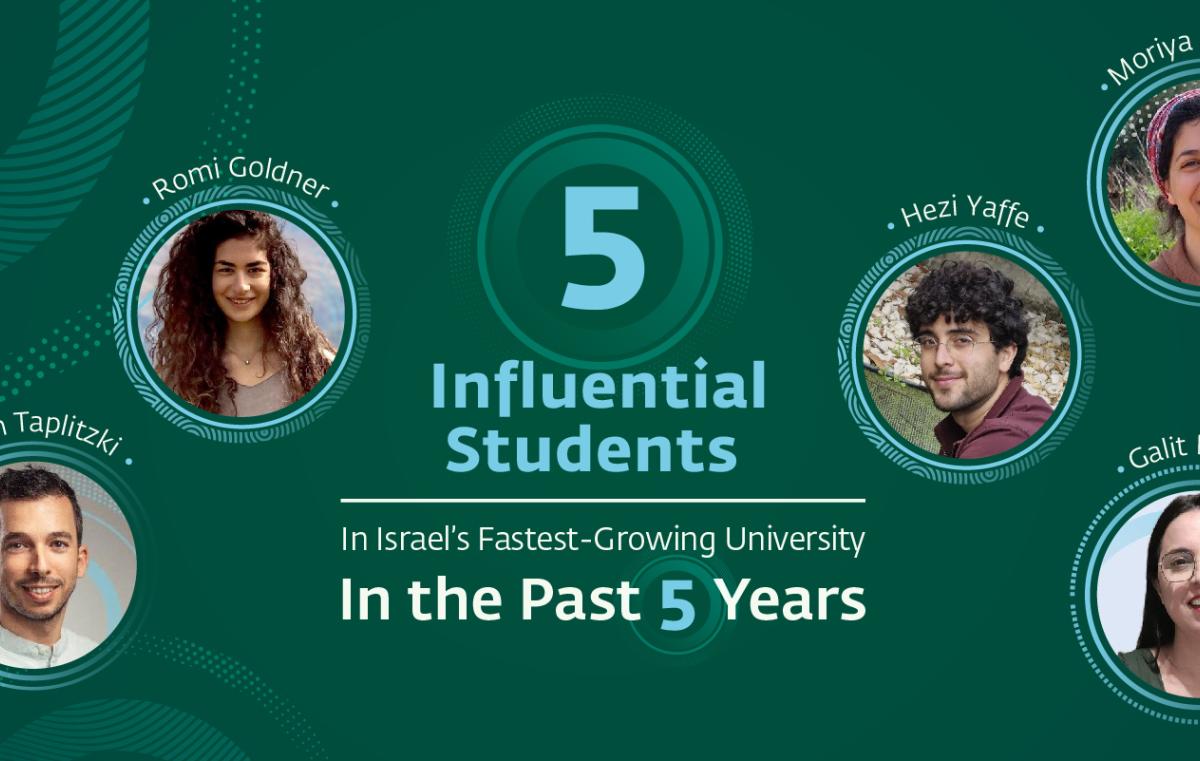 Bar-Ilan University has recorded an extraordinary achievement for five consecutive years. According to CBS data, Bar-Ilan has the fastest-growing student population among all Israeli universities. 
Gearing up toward the May 12 Open House, we have created a series of 5 articles exposing you to the research, students, graduates, campus locations, and social activities which have played significant roles in Bar-Ilan's growth. 
This article is about 5 of Bar-Ilan's influential students: 
Computer Science and Guide Dog Training 
Hezi Yaffe, a computer science student at BIU, chose computer science due to his love for problem-solving and his understanding that "the computer industry is growing and gradually taking over a significant part of our lives." 
Alongside his studies, Yaffe joined the Dean of Students volunteer project and is training  a guide puppy at the Israeli Center for Guide Dogs during its first year. At the end of the training year, Hezi's dog will guide a visually impaired person. "Raising a dog knowing it has a mission to change the life of a person or a family is an experience that is beyond words," he says.
Influencing Medicine in Israel's North
Moriah Lichtman, a medical student, relocated with her family to Safed to fulfill her academic and professional dream and impact medicine in Israel's north. 
"Medicine has everything I am looking for: meetings people, a fascinating field of knowledge, and above all, the ability to help and support people in need," says Moriah. 
Along with acquiring professional knowledge, she attests to the importance of emphasizing interpersonal aspects, "which are key tools  in the doctor's toolbox," as well as the social aspect. "My fellow  students,  my colleagues, are like my family ," she shares.
Advancing People with Intellectual and Developmental Disabilities
Galit Harari, a graduate student at the Faculty of Education, chose to study a profession that focuses on advancing one of the weakest populations in society - special education focusing on people with developmental delays and neurodivergence.  
"Working with people with intellectual and developmental disabilities gives me a sense of meaning," she says. As part of her studies, Galit also experienced teaching in the Ozmot project, the only one of its kind in Israel and among the only ones in the world which provides academic studies to people with intellectual disabilities. 
"It was an extraordinary experience," she says, "I was amazed to discover their capabilities to learn and comprehend  and that the unique program allows them to pursue academic studies."
Influencing the Environment and Civil Infrastructure Through Regulation
Tzach Teplitsky, a master's student in the program for environmental regulation and policy at the Faculty of Law, connects the disciplines of environment and regulation with the ambition to influence and bring change forth. 
"I realized that if I want to take part in the decision-making process at the highest levels, I must combine the regulatory with the environmental response." During his studies, Tzach set himself a goal to join organizations where he could act to impact the environment "and harness the abilities I acquired in my studies for the benefit of the municipal space with an emphasis on infrastructures provided to the citizen."
Excelling in Science, Striving to Impact Research
Romi Goldner, an outstanding BA and MA student in bioinformatics taking degrees simultaneously, is part of the prestigious "Ilanot" and "Psagot" programs. "When I discovered the degree in bioinformatics, which fascinatingly combines computers and medicine, I realized this was the degree for me."
Romi says that she greatly enjoys personal growth in her studies and dealing with challenges. Once she completes her master's degree, she intends to continue researching the field of bioinformatics as part of her doctorate and focus on machine learning. "In addition to the professional knowledge I acquired, I learned that it is important to surround yourself with people who teach and challenge you. The talented and special friends I met during  my studies are a gift I will take from Bar-Ilan as I continue my journey."
Want to influence the world in your own unique way? Here's where you start.