05.09.2023 | יט אלול התשפג
Three Gold Medals and an Honorable Mention
Israel's Informatics Team, trained at the Bar-Ilan University Youth Center, wins big at the International Olympiad in Informatics
Image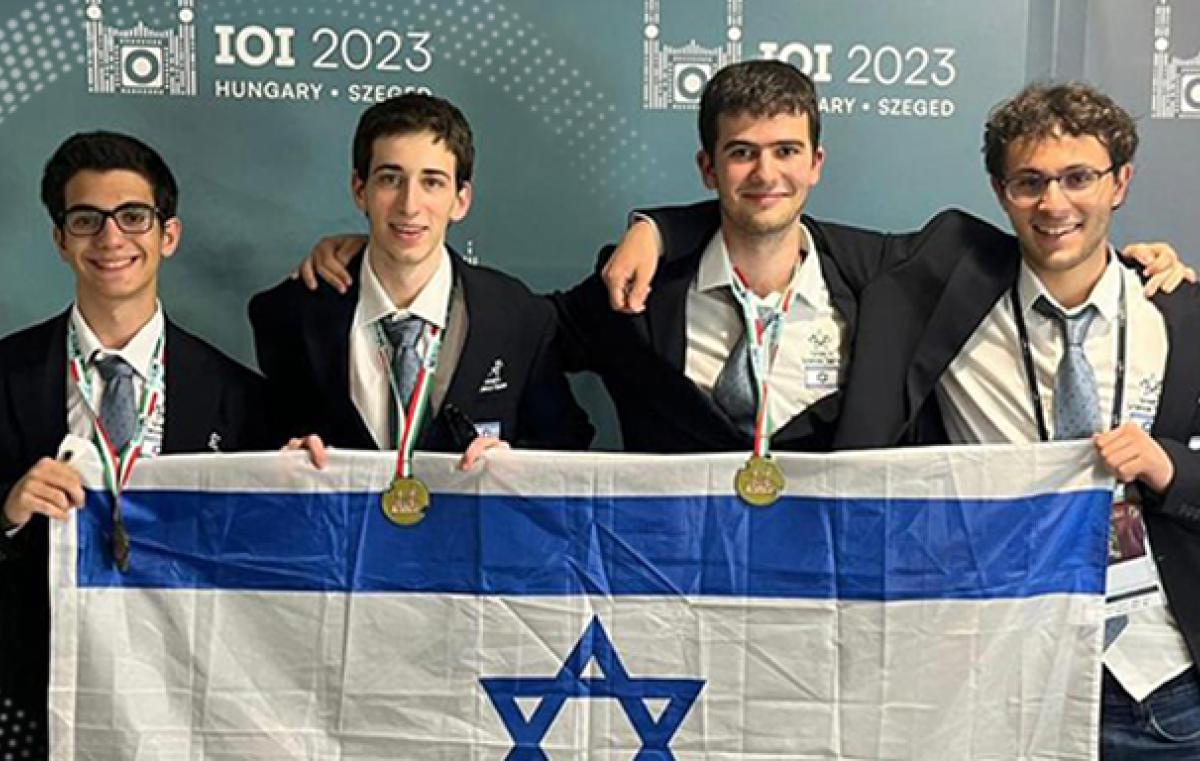 For the first time since Israel teams began participating in the International Olympiad in Informatics, the Israeli delegation won three gold medals and an honorable mention. Members of the delegation members received their training for the Olympiad at the Bar-Ilan University Youth Center.
The gold medalists are Daniel Weber, a 10th grader at Ben-Zvi High School in Kiryat Ono; Elazar Koren, an 11th grade student from Yeshivat Tikva Yaakov in Sde Yaakov and Alon Tanay, an 11th grader from De-Shalit High School in Rehovot. Yuval Vaknin, a 12th grader from Tichonet-Alterman High School in Tel Aviv, received an honorable mention.
"It is an immense source of pride to have nurtured this exceptional youth who have achieved unprecedented success in the realm of informatics," said Prof. Moshe Lewenstein, Deputy President of Bar-Ilan University. "This year the University Youth Center made a change in the curriculum and created a personalized study program for each member of the delegation, based on their strengths and challenges. Our young students demonstrate to us and to the world that the future of the Startup Nation is guaranteed, at least on the level of its human capital."
This year's Olympiad was held in Hungary and was attended by 351 participants from 90 countries. The competition spanned over two intense days, with each day featuring a challenging five-hour session. During these sessions, students were presented with three algorithmic questions that required outside-the-box thinking and coding solutions to tackle complex problems.
Members of the team were trained at the Bar-Ilan University Youth Center under the guidance of a coaching team led by Dr. Avshalom Elmalech, the academic director, and Ron Ryvchin, the head coach. The coaching staff also included Gonen Gazit, Yoav Katz, Ido Kesler, and Noam Guterman.
Minister of Education Yoav Kish expressed pride in the students, whose impressive achievements place the Israeli education system at the forefront of the world stage. "I have no doubt that many students will follow in their footsteps, achieve amazing results, and bring great pride to the State of Israel."
The training of the computer science delegation, as well as other Israeli scientific teams participating in international competitions, is led by the Ministry of Education and the Future Scientists Center of the Maimonides Fund.