02.09.2021 | כה אלול התשפא
Jewish Holidays in Synagogue Paintings
With the High Holidays just around the corner, Dr. Zvi Orgad, of the Department of Jewish Art, describes the holiday motifs in murals in the old Horb synagogue in Germany
Image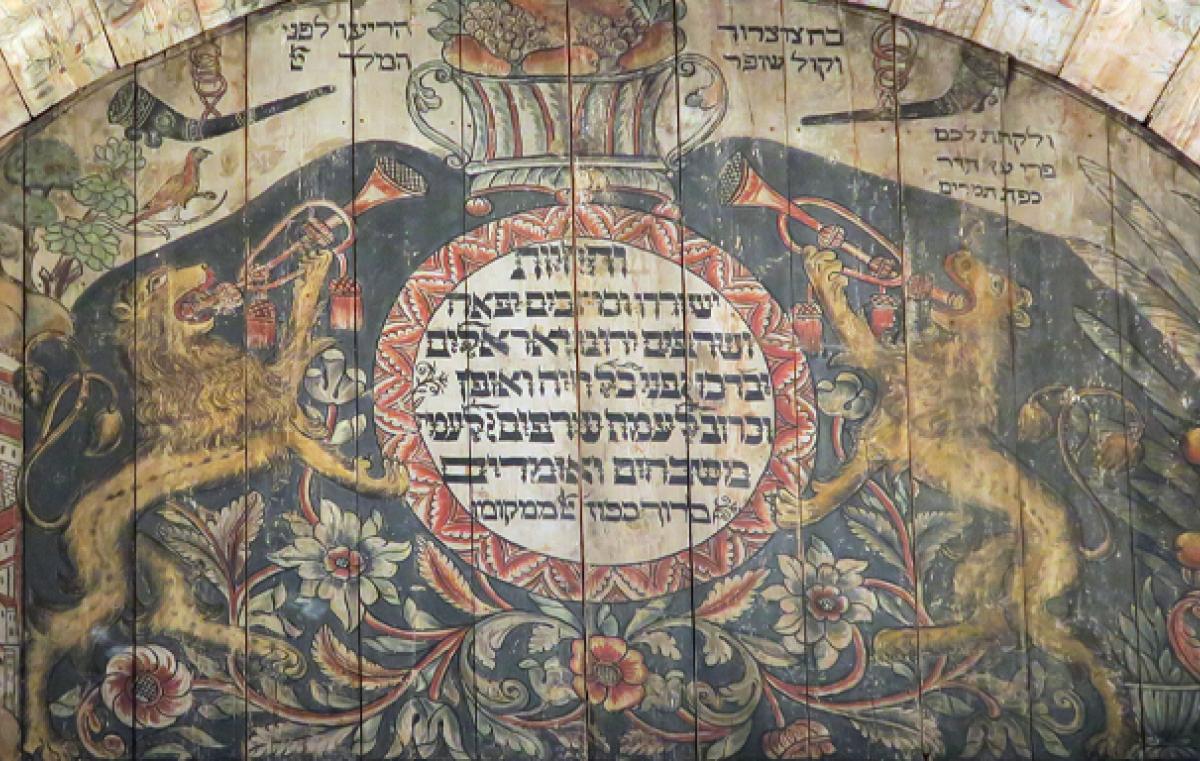 As a scholar of Jewish art, I have always been fascinated by the interior decor of synagogues in Central and Eastern Europe. In the early modern period, these paintings included a plethora of animals, plant motifs and depictions of Jerusalem and the Holy Temple. Many of these paintings relate to the festivals in the Jewish month of Tishrei and express the transition from Diaspora life to redemption. A good example is the mural on the western wall of a synagogue in the town of Horb on the Main, in the region of Franconia (now Bavaria).  This painting illustrates the timeless perception of the artist and the Jewish community in the eighteenth century.
The mural includes three main scenes. Diaspora life is marginally represented in the left scene depicting a small village against the backdrop of hilly landscape. Above the village, is the grand city of Jerusalem, the heart of desire and prayer, whose main gate is locked. The inscription "BH" situated between the two towers indicates the location of the "Beit Hamikdash," the Holy Temple.
The path from the current Diaspora existence to a life of redemption in Jerusalem passes through the central scene. The two lions blowing the trumpets and the shofars above them, invite worshipers to the heavenly judgement that transpires on Rosh Hashana and Yom Kippur, and is finalized on Sukkot.  The trumpets and shofars connect the scene to the Temple – which, according to the Talmud, is the only place where the trumpets and shofar were sounded together on Rosh Hashana.
The last scene, which is on the right, depicts the fulfilment of the redemption. The inscription (in Hebrew), "And you shall take for yourselves on the first day, the fruit of the goodly tree, branches of palm trees..." refers to the four species. Below the picture is a basket laden with fruit, flowers and branches – described thus far in the study as the "basket of the four species." The only identifiable plant of the four species is the lulav – which is painted in the form of long branches, and next to it flowers and grape clusters. These may represent the abundance of fruit in the Land of Israel and perhaps, even the seven species that are brought to the Beit Hamikdash upon entering the land.
The composition of the various scenes represents a timeless perception of Jewish existence – national, religious and personal – as perceived by the artist and Jewish community in Horb. This perception marginalizes contemporary Diaspora Jewish life, while placing at the center the belief in redemption – which is given visual expression throughout most of the mural.
Picture: The western wall of the Horb Synagogue, Germany, 1735; The Jack, Joseph, & Morton Mandel Wing for Jewish Art and Life, the Israel Museum, Jerusalem