14.11.2021 | י כסלו התשפב
Diverse Dialogue: Student Stories & Art
The exhibit reflects the dialogue between students who told their multicultural life stories and other students who listened and, inspired by these unique stories, created works of art
Image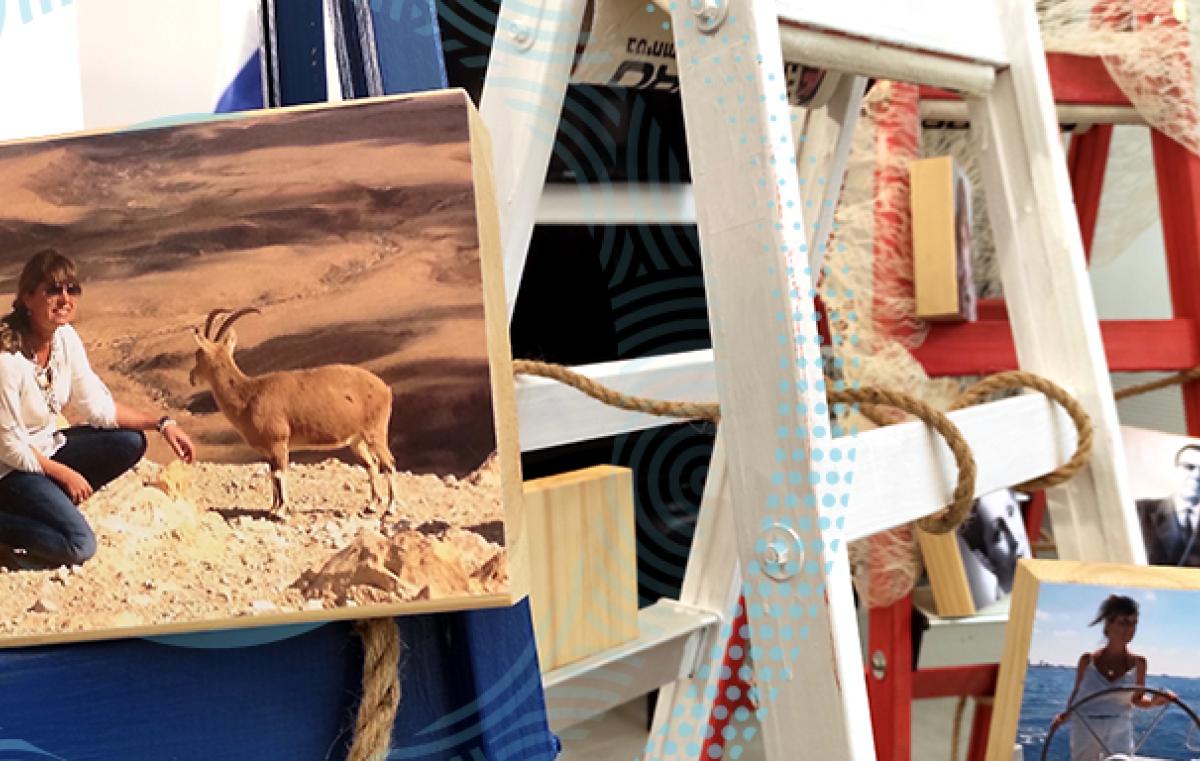 The "Diverse Dialogue" exhibit, on display in the Naomi and Isi Leibler Exhibition Hall at BIU's Wurzweiler Central Library, through January 3, 2022, showcases the works of students from varied backgrounds, enabling visitors to discover their personal story and a different perspective of Israel's social diversity. The works, created by pairs of students, reflect the beauty in dialogue and active listening. The exhibition was initiated by the Dean of Students, Prof. Nira Mashal and Dr. Liat Fridgoot-Netzer, BIU institutional supervisor of Israeli Hope in Academia.
Among the exhibit works:
The story of Charmian Lezmy, a teacher of diplomacy and English, who studies in the Department of French Culture, begins during her childhood in London, when she is confronted with the challenges of an anti-Semitic environment and the illness of her mother, who has multiple sclerosis. The manifestations of hatred toward her Jewish identity combined with the constant fear of her mother's death due to her terminal illness, frightens Charmian and makes it very difficult for her to trust people.  Will she be harassed because of her Judaism when she opens the door of her house and ventures outdoors? Will her mother still be there to greet her when she returns home and closes the door? Upon her arrival in Israel, a different, optimistic door opens for Charmian. This door opens up additional doors for her – social integration, establishing a family – and she adds sports, which open other liberating doors. Charmian's work with the artist Diana Moritz – a student in the Department of Economics – opened an additional door, a door of listening. The tension, fear, and worries from the unknown, were translated into a visual image of fabric wrapped around the head, meter by meter, closing in, squeezing, concealing, and weighing down on the vanishing head encased in press cloth.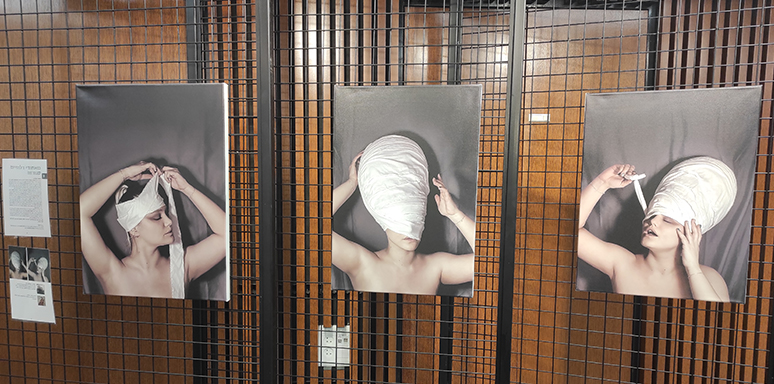 Ruti Baror, a student in the "Otzmot" program, which integrates students with intellectual disabilities into academic learning, is studying for a bachelor's degree in social sciences. It hasn't always been easy and sometimes people treat Ruti in an unpleasant and insensitive way. She relays: "They didn't believe that I was a student. Despite all the difficulty, I made this change because I believed that one day I would succeed in fulfilling my dream. As a child, I began keeping a diary, which I called 'a different kind of friend'…when I write things in the diary, I feel like something within me comes out… even today when I read my diary, it gives me a sense of listening and understanding." Ruti met Gal Moskowitz, a student majoring in special education and art. The two were exposed to each other's world and found many similarities between them, and together built the creative concept, centered on the image of the "Ugly Duckling", which invites one to ponder the question of stereotypes, while also symbolizing the struggle on the road to success.  Flanking the work is text written by Ruti, as well as a Torah scroll representing her faith and learning. At the bottom are irises, a symbol of courage and faith, and in the background, the connecting paths of Ruti and Gal.
The narrator, Yarden Or, a third-year student in a combined bachelor's and master's degree in law, and the artist, Rinat Podisok Reisner, an art therapist and lecturer in the master's degree program in art therapy and a doctoral student in Jewish art history at Bar-Ilan, created together a mosaic from four broken plates. Each of the plates symbolizes family of Yarden's father. All of the plates are made from the same material but represent different beliefs, a different way of thinking, and a different purpose in life: Haredi grandparents; Yarden's secular-atheist nuclear family, her aunt's Chabad family, and her young uncle's family with their secular-traditional lifestyle. The whole plate at the center represents Yarden, who grew up and flourished in a diverse environment and had the opportunity to see and experience from up close a wide variety of lifestyles. The breaking of the plates symbolizes the choice that Yarden has to reassemble the mix that best suits her and not go one way exclusively. A large flower represents the harmony that the family has reached despite the many pieces that are so different from each other.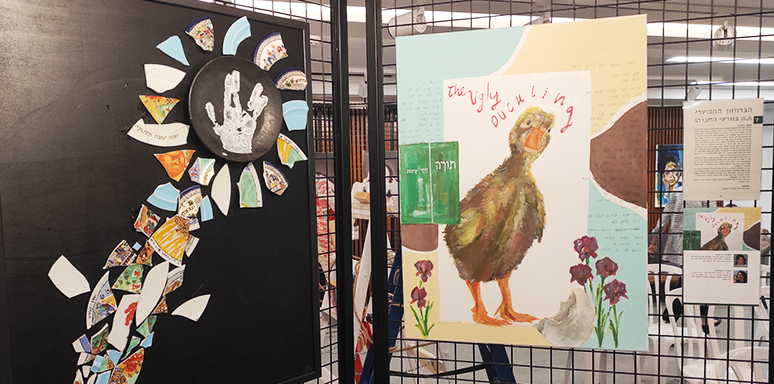 "Smiling Eyes – Creating Worlds" is the joint work of Hadar Zisman, a student with Rett Syndrome (also called "Silent Angel") and Noa Levy, a doctoral student in gender studies and a spoken word artist. Hadar is unable to talk but through eye-gaze technology controls a computer, thus drawing, communicating and creating art. Noa writes and performs spoken poetry, which deals with life experiences in the past and present from a feminist point of view. Hadar and Noa's work comprises three parts: A digital painting, called "Smiling Eyes", that Hadar "painted" using eye-gaze technology and which was inspired by "Song for Poetry"; A poem written by Noa, parts of which are played as a spoken poem in a video; A video of the creative process which combines the voice of the narrator Noa together with Hadar's talking eyes.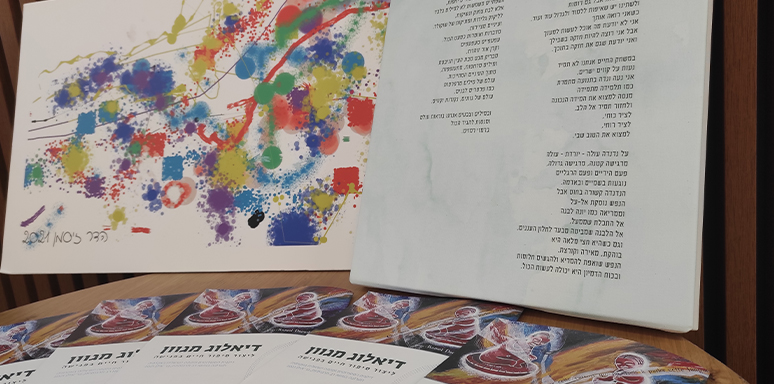 The "Diverse Dialogue" exhibit reflects the possibility of coexistence through dialogue and listening. In this sense, art tries to reflect reality. However, the encounter between participants did not occur naturally, but was deliberately arranged to produce a dialogical process. In this sense, the artistic process seeks to understand and shape reality, and to create an opportunity for dialogue in a place where it might not have naturally taken place. The basis for the dialogue is the recognition of our blind spots, knowing that we don't know everything, we must ask, listen, learn and work together.  Many times we judge those with whom we are speaking from our perspective. With the help of attentive and sensitive dialogue, participants were able to stay out of the story and enter the other's world and point of view, and to reflect that in their artwork, even if it embodied a worldview so different from their own.
The "Diverse Dialogue" exhibit, created at the initiative of the BIU Dean of Students and Israeli Hope in Academia, opened on Monday, October 25, 2021 in the Naomi and Isi Leibler Exhibition Hall at the Wurzweiler Central Library, Building 401, and will be on display through January 3, 2022 during library hours.