11.11.2021 | ז כסלו התשפב
Historic Week at Bar-Ilan University
First Moroccan, Emirati delegations visit campus
Image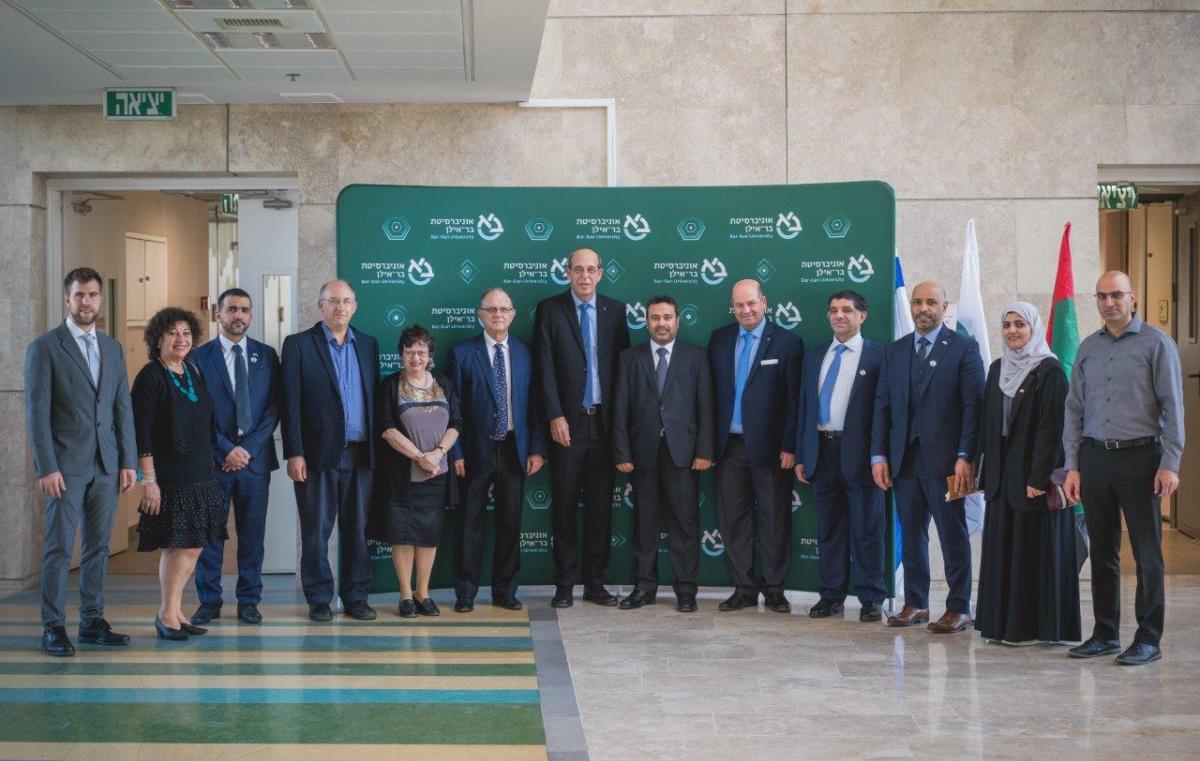 History was made this week at Bar-Ilan, as the University welcomed delegations from Morocco and the United Arab Emirates to campus – a dream that prior to the recent signing of the Abraham Accords would never have been possible.
A formal delegation from the UAE Ministry of Education met with Bar-Ilan leadership as a step towards building academic cooperation with broad-ranging impact.
In his opening remarks University President Prof. Arie Zaban noted the significant growth in the student body that has occurred over the last four years, as well as a sharp increase in STEM and artificial intelligence research. Bar-Ilan, he said, is on a clear path to becoming an innovative campus which strongly highlights the University's innovation, collaboration, and entrepreneurship among its researchers and students. "Connecting Bar-Ilan to society-at-large, industry, and the international arena is part of our DNA," he said.
Connections with the UAE academic community have already advanced. Prof. Zaban mentioned cooperation with Khalifa University in Abu Dabhi and Gulf Medical University in Ajwan. "It was very emotional and exciting to establish contact and sign the agreement with GMU," Zaban said.  
Permanent Committee Chairman Shlomo Zohar, University CEO Zohar Yinon, Vice President for Research Prof. Shulamit Michaeli, and Vice President for International Students Prof. Moshe Lewenstein each expressed hope for future cooperation with Emirati universities through academic and student exchange programs that will be beneficial to both sides. Already, a small group of Emirati students is studying online at Bar-llan University, Prof. Lewenstein noted.
Israel Prize-winning chemist Prof. Doron Aurbach highlighted the work of the chemistry group on batteries, and on developing power sources for all aspects of electro-mobility, and electrochemical devices for large energy storage. Bar-Ilan University leads the Israel National Research Center for Electrochemical Propulsion (INREP) in cooperation with other Israeli universities, thus turning competition into collaboration, said Aurbach. The Bar-Ilan Center of Energy and Sustainability, he added, includes 50 research groups from six faculties.
"For me, the epicenter of sustainable energy research was Bar-Ilan University," said Prof. Lior Elbaz, of the Department of Chemistry, who explained why he joined Bar-Ilan after working at the Los Alamos National Laboratory in New Mexico. Elbaz, who has started an Israeli fuel cell consortium at Bar-Ilan in collaboration with other universities, shared his dream to establish a Middle East collaboration with the UAE and volunteered to help set up hydrogen economy (storing energy from the sun during the day for use at night) and fuel cell projects there.
Prof. Koby Yablon, Dean of the Faculty of Education, presented study programs offered by the Faculty, as well as the Center for Simulation in Education, which trains educators to effectively manage conflicts and develop interpersonal communication skills.
Earlier in the week, during the visit of a Moroccan delegation to Bar-Ilan, the University's Aharon and Rachel Dahan Center for Culture, Society and Education in the Sephardic Heritage and the Center for Studies and Research on Hebraic Law in Essouiara, Morocco signed a cooperation agreement in the framework of an international conference on Culture and Jewish Law in Morocco that took place at the University.